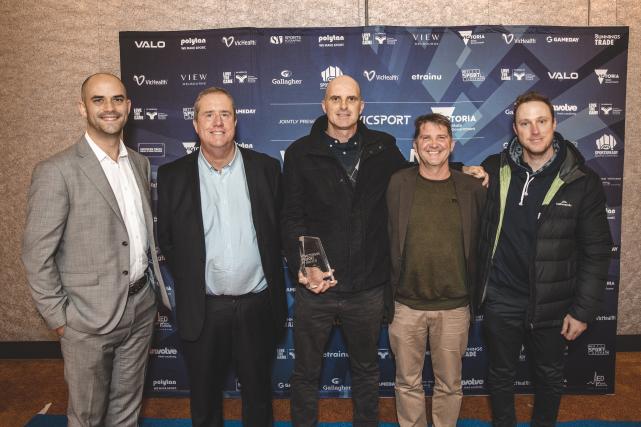 By Tyler Wright
The Ferntree Gully Tennis Club received the Polytan Peter Norman Inclusion Award at the sporting community's annual night of nights last week.
On Wednesday 15 June, Ferntree Gully Tennis Club president Paul Proctor attended the Victorian Sport Awards held at Melbourne's Park's 'CENTREPIECE' and said the club was "thrilled" to receive the accolade for its All Abilities Strategic Plan, put into effect 18 months ago with the help of Tennis Victoria.
"We looked at different ways of playing tennis to make it a bit more accessible, we had a look at how Blind Tennis run their programs and took some learnings from that; letting the ball bounce a few more times and using some low compression balls," Mr Proctor said.
The club's strategic plan includes the main imperatives of growing the participation of all abilities players, developing programs for players with an intellectual disability and appointing an Inclusion and Diversity position to the club committee, among others.
"Off court we built partnerships with different groups in the co-designing phase, and also afterwards with the Eastern Ranges part of Special Olympics, who brought some athletes down for our launch and to do the program as well," Mr Proctor said.
The president said the feedback from the program has been "really positive" with the club also receiving funding from Knox City Council, providing tennis lovers with rackets and gear to participate in sessions each week.
"If people of all abilities feel they can participate and have the opportunity like everyone else within sport, and particularly in tennis, that they can play competitively or socially – it's important for them to have as much opportunity as anyone, and we're trying to provide that," the president said.
Vicsport CEO Lisa Hasker said there was over 400 people celebrating local sporting clubs on the night – the first time the sports community has come together "as one" for a couple of years.
"It was fantastic to see everyone there, to celebrate 20 different awards throughout the evening, and to congratulate everyone from coaches of the year, officials of the year, volunteers of the year, inclusion awards; a whole lot of different categories to celebrate everything about Victorian sport," Ms Hasker said.
"It was good to celebrate initiatives that have happened during Covid…being back together with the sporting community and their mates, and reconnecting with other people, has been the big positive," she said.
Representatives from Knox City Council, Special Olympics Australia and Tennis Victoria all attended the awards ceremony.
Running on Thursdays from 5:15pm to 6:15pm with a core group of about 20 in the All Abilities Program, Mr Proctor hopes to see particpation numbers continue to grow.
"Hopefully it's a model for some other clubs to take on board and take further," he said.