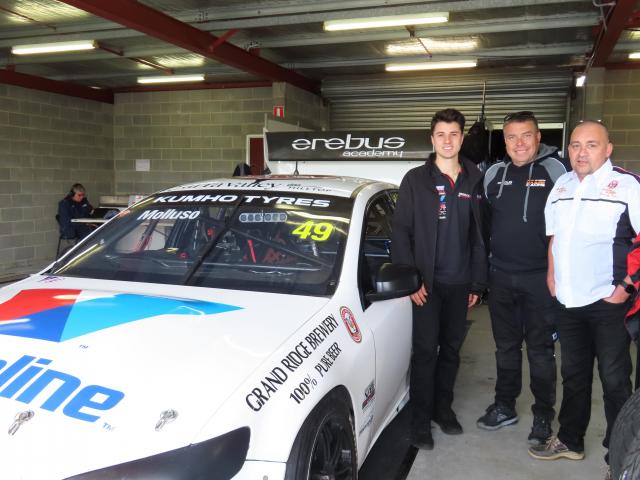 By Tyler Wright
A young V8 motorist is looking for support to race interstate later this month.
Antonio Molluso, from Silvan, debuted in a V8 car in Phillip Island in May where he placed third, followed by a second-place get at Sandown Raceway in August.
"We raced previously in Hyundai Excel; an entry level two car racing, [with] low powered front wheel drive, so not fast compared to a V8 Supercar," the 21-year-old said.
"When I got into the V8 Supercar at Phillip Island it was tough to get used to that sort of speed, so doing that round and then going to Sandown, I felt more comfortable in the car [and] it was more experience."
Antonio grew up loving cars, with his dad running a local mechanic shop and participating in drag racing himself.
"I was always involved in cars," Antonio said.
"We've got a farm here with motorbikes, so from a young age I've been involved in anything with a motor."
After visiting the racecar track a few times with his Dad, and after go carting a couple of times Antonio became "hooked" on racing.
"To be able to race at those speeds, the thrill is amazing and there's really nothing like it," he said.
"When you're on the road you can only follow the limits; when you're out on track you can pretty much do what you want and go as fast as you want."
But the cost of V8 supercar racing is high – with Antonio admitting it is a slim chance of him being able to compete at the Adelaide 500 from Thursday 23 November to Sunday 26 November.
"Next year I'm trying to set up a full season in the V8 touring cars, and to compete in another leg would be great to hit off the end of the year so I'm ready to go for next year," he said.
"We could potentially win the championship and that would set me up again for a year after, and getting closer to being a V8 supercar driver full time."
Jason Bell from Grand Ridge Brewery – the naming rights sponsor for next year's World Superbike Australian round at Philip Island – is assisting the budding driver in getting new sponsors and new partners on board.
"You've got to pay your own way until you get to the top level, then you might get paid through your sponsors and maybe through the team," Antonio said.
"The journey to get through that though, you have to find your own sponsors, get a good backing from a lot of people to help you be able to race."
He said he is working closely with V8 Supercar team Erebus Motorsport who are leading the championship at the moment.
"They've welcomed me along and have a good interest in me, but they want to see the results on track as well."
Antonio's family are also on board – with support from his sisters and parents – as he looks to become a supercars champion and eventually win at Bathurst.
"Dad is the crew chief and the main mechanic to help me along, and my sister and my mum help with social media, doing videos and getting our sponsors as much recognition as possible," he said.
Antonio's racing journey can be seen on Instagram via the mollusomotorsports handle.