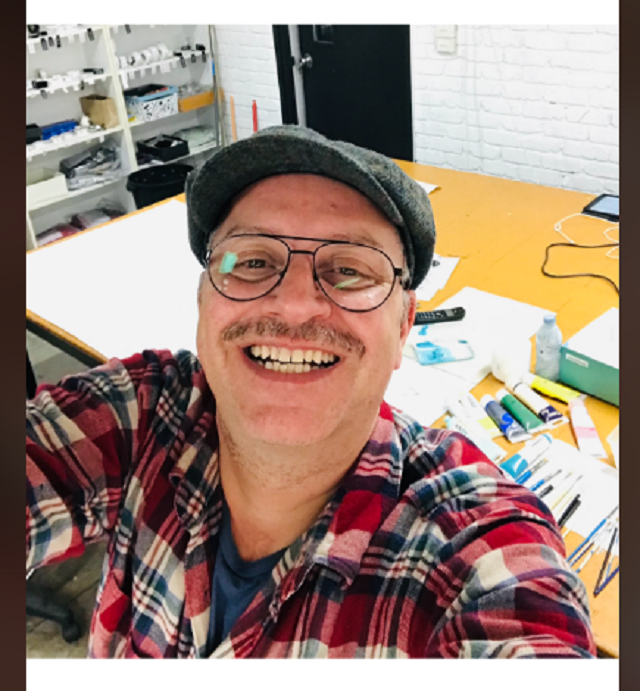 By Tyler Wright
A Tecoma resident is preparing to display his colourful works at Olinda's Victor Alexandre Design Boutique on Olinda-Monbulk Road from Friday 8 July.
Artist John-Duke will be at the exhibition to discuss the paintings and experience the area with attendees on Friday 8 July and Sunday 10 July from 11:00am to 4:00pm, while the art will be at the store available for purchase until Sunday 31 July.
"I was shocked to get the third lockdown on 18 August, and I thought 'enough is enough,'" John-Duke said.
"Instead of me working really long hours, I thought 'no, I'm going to start painting and use it [for my] mental health."
"I came into the design office and started painting, and it was exciting; I wasn't as frustrated as I was in the [previous] lockdowns – putting on 80s music and painting with lots of bright colours."
With an abstract style and using happy colours including yellows, blues, torquoise and aqua, John-Duke also shared his creations to help his close friends with their mental wellbeing.
"Every two hours I'd ring up someone special to tell them about my art and send them text messages of photos of my art…getting their opinions and their excitement," John-Duke said.
"Sometimes I might do a theme like the sadness of what's happening in Ukraine; sometimes I go and twist it and do something historical like the Ned Kelly story."
The works on show will be all originals, not prints, replicating the artist's creative lifestyle at his Mentone studio and boutiques in Olinda and Brighton co-owned with partner Victor Alexandre.
"Olinda's a very arty kind of town because I would say 80 per cent of the stores have got some type of art or local artists showing in there," he said.
"I do support other local artists; I go and buy something just for the sake of buying from them because I notice they're Australian made but also making them excited that I'm appreciating their art and I'm actually looking to analyze the beautiful workmanship."
The site of the exhibition, Victor Alexandre Design, is located at 25 Olinda-Monbulk Road, Olinda.