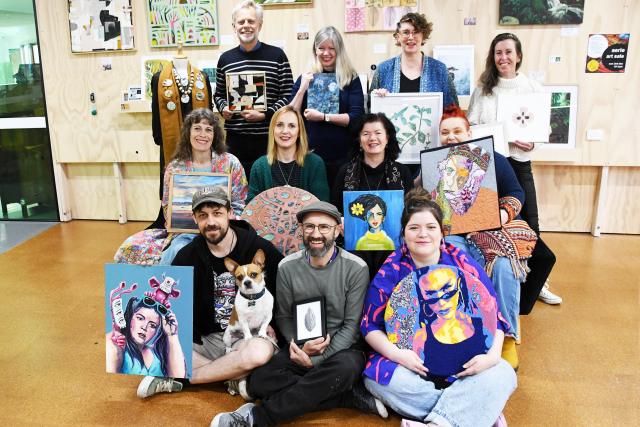 By Tanya Faulkner
The best thing about art is it comes from the soul.
Upwey local artists are selling their heart and soul in an upcoming exhibition at Burrinja Cultural Centre.
As part of the coming Aerie Exhibition, local resident artists will open their studios and invite Hills' locals to a one-day special event as part of Burrinja's 25th Birthday Celebrations.
Artist Rain White said they are excited to invite everyone into the Aerie art exhibition.
"We have 17 different artist studios to explore with lots of different offerings including artist originals, cards and wearable arts," she said.
Ms White said she will have her wearable art collection called 'Earth and Rain' along with several other pieces of her works in the exhibition.
She said the Aerie exhibition aims to cultivate creative expression, promote creative economies, and foster creative connections.
Textile artist Natasja Van Wyk said there will be lots of exciting things happening outside of the Aerie exhibition, as part of the Burrinja Cultural Centre 25th birthday celebrations.
"I myself will have prints of my Baba Desi portrait, which won the viewers choice award in this year's Upwey Archies.
"We'll have some Burrinja stars that have been made by the community hung upstairs.
"Burrinja actually means 'star'.
"It's going to be a big party for the 25th anniversary," she said.
One of Burrinja's newest artists, Aimee McCallum, said artwork is about expression.
"My work is hand pressed, embossed pieces, made with foliage, leaves and flowers that I've collected on my walks in the area.
"For me it's about finding my connection to nature," she said.
Ms McCallum said she wouldn't have had the same connection with her work if it wasn't for the centre.
"This place is really good for focus.
"If you have a good target, the space helped me to create focus, find my purpose and a community I wouldn't have had otherwise.
"You don't find that in your home.
"Everyone is so welcoming and wants you to be part of their artists' home."
Artists on display at the centre include Natasja Van Wyk, James Hughes, Anthony Breslin, Sarah Jordan, Stain Studio – Stephen Glover and Rain White, Kristin MacFarlane, Tracey Samios, Leticia Hodson, Carl Alexander, Paula Ewington, Aimee McCallum, Macarena Ocea, Stephen Evans (aka Skübz Mope), Angela Cotter, Emily Lowe, and Liberty Finn.
The exhibition will be held alongside Burrinja's 25th Birthday celebrations on Sunday 3 December from 10am to 4pm at the centre.
For more information head to exhibitions.burrinja.org.au/25 and aerie.burrinja.org.au