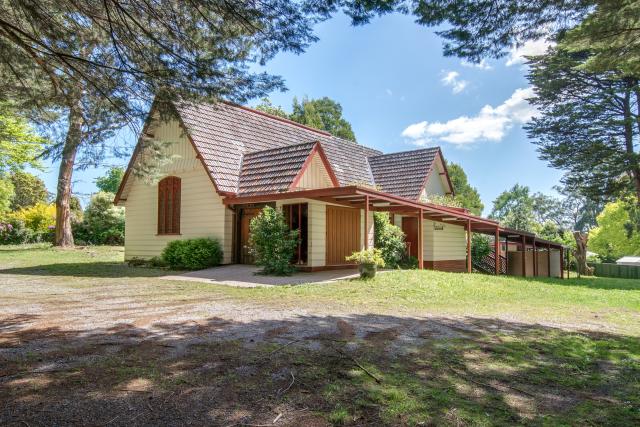 By Tyler Wright
The imminent sale of relic in Sassafras has prompted an outpouring of memories from locals.
Kennon Memorial Uniting Church, at 6 Clarkmont Road, has been put on the market by Bell Real Estate and is hoped to appeal to community groups and philanthropists alike.
Sherbrooke Foothills Historical Society president Robert Jungwirth said the church was designed by the same architect who designed the original Cameo theatre in Belgrave – John F.D Scarborough from company Scarborough, Robertson & Love.
"The community needs a generous philanthropist to purchase the property and make it a community facility maybe for some local branch of U3A, art and craft, child care, etc," Robert said.
Agent Jo Hirst said the building – which was consecrated around 1936 – has a special meaning for her as a resident.
"I've lived in Sassafras for over 20 years and I've had quite a few happy and sad occasions occur at that church," she said.
"On a personal point that's quite special and then the actual site, which hasn't been in use for quite some time, over a few years I believe, I think will attract either another community based organisation or we may even get someone wanting to convert it to a residence.
"We had to put forward quite extensive proposals to this United Church and to include a potential history actually about Bell Real Estate and one of the founders of Bell Real Estate, Syd Bell, was an ex-minister."
According to the Yarra Ranges Heritage Database, the church is of high local significance as a memorial to Thomas Kennon – a "prominent district resident and philanthropist" – and as an example of a 1930s timber Church.
The Kennons owned the Kenloch mansion in Olinda and provided the land and funding for the Sassafras church.
The Kenloch estate sold in 2017 for a sum of more than $5 million.
On social media, commenters like Wendy Linda flocked to share their sentiments on the church that has been in the Dandenong Ranges community for almost 100 years.
"I played the organ for many weddings and services there in the 80s and 90s," Wendy wrote.
"A beautiful building with a rich history."
Sally Byron said she hopes the church is saved and becomes a community space.
"I can imagine rehearsals taking place there," she penned.
"The organ looks like it's in good condition."
Nicole Parker was married at the church, while Nola Willoughby shared she was christened at the venue and partook in sunday school, church and youth group there.
"My parents were married here, I was baptised here, my grandparents went every Sunday, I went to Sunday school here when I slept overnight at [grandmas]…funerals too," Sarah Kinstler also commented.
"I have great memories of hill families in the 70s and 80s at Kennon Church. I love this building."
Jo does not believe the property will be on the market for long.
"We've had quite a lot of interest in a very short period of time," she said.