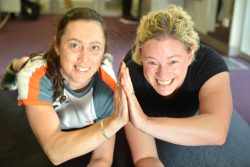 By Peter Douglas
Hills locals Adie Bergen and Leon Gailitis have been impressing friends and family with their incredible weight-loss story, while being announced the winners of a major competition.
After participating in the Monbulk Aquatic Centre's 12-week challenge, Your New Beginning (YNB), the pair has lost a combined 21.3 kilograms.
The Belgravia Leisure program is designed to inspire individuals to become more active through small-group personal training, group fitness classes and access to nutritional and meal-planning expertise.
Leon and Adie said they were proud to have won and were even happier to have transformed their lives, kept off the weight and continued training since the challenge finished.
Adie said her health and well-being had improved significantly.
"This is definitely a lifestyle change that I want to continue," she said.
"I want to get to the point where I'm running again.
"I also want to lose 10 more kilos and keep it off."
Leon hopes to run a short triathlon at the end of the year, while saying his weight loss had helped to improve his mental well-being.
"I have more enthusiasm about life and feel like I've regained a little of my youthful spirit," he said.
Meanwhile, Monbulk Aquatic Centre Manager, Dave Florance, said it was a privilege to play a role in helping people to take control of their lives.
"Our health club actively works with the local community to give people the support they need to achieve the health and fitness results they seek," he said.
"Leon and Adie are great examples of this and we are really proud to have them work out at our health club."
The YNB program will return at the Monbulk Aquatic Centre in February next year.
For more details, visit www.monbulkaquatic.