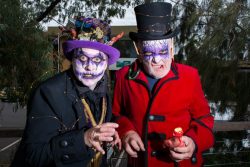 By Derek Schlennstedt
For the very first time, Halloween is coming to the hills.
So bring the family and join The Dandenong Ranges community to celebrate the Halloween holiday with the first-ever Halloween on the Green event.
The inaugural event will be held at Ferny Creek recreation reserve on 28 October and will be a spooky and spectacular celebration of everything Halloween.
Organiser Andrew Fillip-Gautier, from the Philanthropic Collective said that as a parent in Sassafras it was difficult to find somewhere where children could celebrate the holiday due to the Dandenong Ranges geography.
"It has become evident over the past couple of years that there is no real central gathering point on the mountain to celebrate this occasion," he said.
"We see a lot of pockets of Halloween that break out on the mountain and we see a lot of kids dressed up with nowhere to go."
They might go trick or treating to one place but at the next they'll be knocked back."
With various isolated areas in the Dandenong Ranges broken up by townships, many children miss out on the opportunity to go trick or treating.
Though the Halloween on the Green ensures everyone gets a chance to dress-up and take part in the spookiest holiday of the year.
Offering a mix of dress-up competitions, live music, carnival rides, and all manner of delicious treats, "It's an event the whole family will enjoy," Andrew said.
"We want to create safe, affordable family-free fun days, where we try and do as many things for free as possible, and really want to create as many happy memories as possible for our kids," he said.
"Hopefully we can build it to become a regular event."
The event is helping to fund-raise for Sherbrooke Community School, Sassafras Primary and Sassafras Pre-school with 100 per cent of the funds going to those schools.
Among the festivities is also a dunk the pollie and principal event, where students and adults get the chance to dunk the principals of the schools, Fletchers Agents and even Yarra Ranges Shire Mayor Noel Cliff.
The event would not have been achieved without the help of local CFA units, Scouts, businesses, the school community, and of course the Ferny Creek Recreation Reserve Committee of Management.