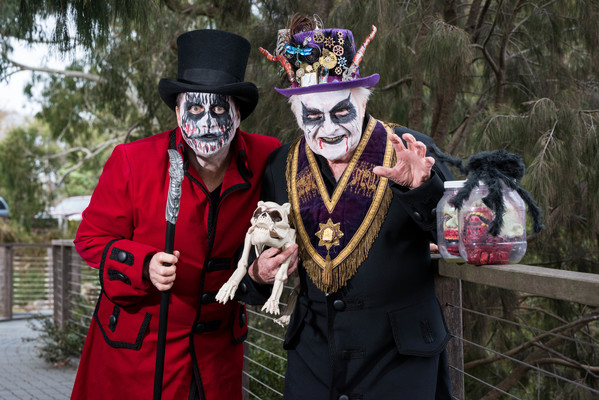 By Lindy Schneider and Derek Schlennstedt
Goblins, ghouls and ghosts are invited to "show off their scary" at the second annual "Halloween on The Green" event in Ferny Creek on Saturday 27 October.
Hosted by The Philanthropic Collective, a not-for-profit charitable association that supports schools and students to make the world a better and fairer place, the event is a spooky opportunity for the community to dress up in their scariest costumes and enjoy some ghastly fun together.
The Collective, along with its many working partnerships, Community supporters and sponsors have been working all year to bring back the showcase of wondrous free activities.
Event director Andrew Filip-Gautier said favourites like the dunking machine will return and that the Best Dressed competition will be offering prizes of $1000 for the winning couple and $500 for the winning child.
Mr Filip-Gautier said that unlike last year, this year's Halloween on the Green will also focus on the historical significance of Halloween.
"This year we have been blessed to have the talents of local make-up artist Melissa Ryan from Monbulk share her creative talents by transforming many of our local business identities, politician's and school principals as part of our advertising" said Mr Fillip-Gautier.
"Our focus has also been on providing some of the rich history of Halloween through various religions and cultures, from all Saints day to the Mexican celebration of the Day of the Dead."
A highlight this year will be the age appropriate 9D mobile cinema that combines a 3D movie with motion seats and special effects that simulate actions in the movie.
The day will include a range of free children's activities, live bands, storytelling, carnival and pony rides, and stilt walkers.
Children are invited to participate in a Trick or Treat Trail and there will be a range of food vendors and stalls on site.
Organisers of the event have been encouraged by the community's reaction to last year's event as it meets the need for "a safe option for trick or treating" and is a way of developing a uniquely Australian version of Halloween.
Halloween on the Green will be held at the Ferny Creek Reserve on 27 October.
Entry is $6 per person, though Children under 3-years-old are free. Funds raised on the day will be donated to several schools in the area.
For more information and tickets www.halloweenonthegreen.com.au or stay up to date on Facebook.
Early bird online tickets purchased before 1 October will be in the running for a $200 dollar prize.