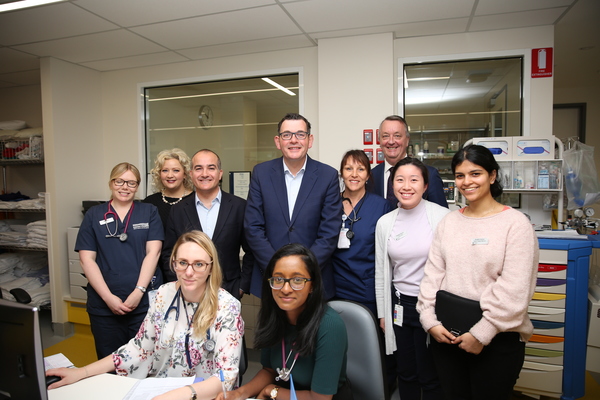 By Derek Schlennstedt
In a combined $170 million pledge by the Labor government, 120 aged care beds have been promised for Melbourne's outer east plus an expansion of the Angliss Hospital.
On 25 September Premier Daniel Andrews unveiled the new $20 million intensive care unit, second short-stay unit, refurbished paediatric area and new mental health spaces in the emergency department at Angliss Hospital that was promised by the Labor government at the last election.
The $20 million Intensive care unit had delivered an increase of 20 beds and the construction of a fourth level above the main hospital building that contains a 14-bed critical care unit.
"This is a really important day and I'm so proud to be able to mark the full completion of the construction works as promised back in 2014," Mr Andrews said.
"The sickest patients can get treated here rather than having to be taken to another of Eastern Health's campuses forcing families and loved ones to travel away from their home to visit and car for their loved one."
Following the ICU units completion Mr Andrew's wasted no time in announcing that a re-elected Labor Government would also deliver the next stage of the Angliss Hospital expansion.
"When you finish stage one that then begs the question of getting on with stage two," he said.
"I'm very, very proud today to announce that a re-elected Labor government will invest $170 million to fully deliver stage two of eastern health's master plan for Angliss."
Stage two of the Angliss Hospital expansion plan will see an additional 25 hospital beds constructed at the hospital as well as a new 120-bed aged care facility at the nearby Wantirna Health site.
The new aged care facility will include 60 high care beds and 60 aged care mental health beds and will complement the existing geriatric medicine hospital and palliative care services already offered at the site.
Construction on the aged care facility at Wantirna Health is expected to start in 2020 if Labor is elected and would finish in 2022 – work would then get underway on the Angliss Hospital expansion, which would be finished by 2025.
"This $170 million investment coming as it does on top of the completion of stage one guarantees the future of the Angliss Hospital for good," Mr Andrews said.
"This is a special place. It is so well regarded and loved by the local community and we're going to make it better than it has ever been -from our smallest local resident like Levi, all the way through to seniors who need the comfort of knowing that they and their families will get the best care from the best staff in the very best facilities."