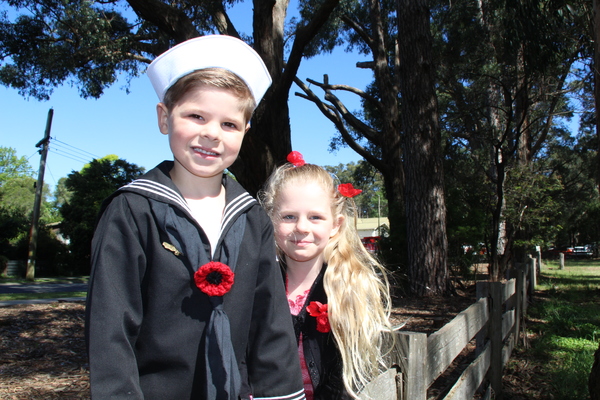 By Casey Neill
A poppy-adorned Puffing Billy was the star of the show at Emerald's Remembrance Day service.
Thousands of people gathered at the Memorial Avenue cenotaph on Sunday 11 November, and at the neighbouring Puffing Billy station.
Emerald RSL received 20,000 poppies from all over Australia to mark 100 years since the Armistice brought World War I to a close, ending four years of conflict.
That's 1560 days in all, and 11,000 lives were lost each day.
The knitted, crocheted and sewn poppies also sprung up around the town, on the RSL sub-branch and at Anzac Place.
The poppy became as a symbol of remembrance after Lieutenant Colonel John McCrae penned poem In Flanders Fields about the flowers growing on battle-scared fields in Ypres.
"Here in Emerald in our little community, 34 of our men were killed and 66 thankfully returned to their mothers and fathers," project organiser Peter Maloney said.
The Anzac Walk unveiled in 2015 paid tribute to 32 men killed in action, but researchers have since identified two more.
"We'll have to change Anzac Walk," Mr Maloney said.
He said research was continuing into the returned servicemen.
"Puffing Billy took our men to war all those years ago," he said.
One hundred years later, it carried 34 scouts and girl guides holding poppy-framed photos of the 34 men who didn't return.
Descendants of two men who did return to the area, Graeme Legge and June Styling, carried honour boards with the names of the 66 who came home.
Homing pigeons were used extensively during war, carrying messages in leg canisters with remarkable reliability and dedication. Crowds watched 34 fly into the sky.
Graeme Legge told the Emerald Remembrance Day service about his father, Private Albert Edgar Legge, who was among the 66 locals who did return home from World War I.
"My father was a member of the 5th Battalion and served in Ypres and at the Somme," he said.
"He suffered mustard gas poisoning and also aphasia, which is a neurological disorder that left him unable to speak for a number of months.
"A few years before he died, he became blind, and we always wondered whether this had something to do with the mustard gas poisoning."
Mr Legge wore the kit bag his father carried on board Puffing Billy the day he returned home.
The soldiers caught the broad gauge line to Upper Ferntree Gully before boarding Puffing Billy.
Christine Weller and Matt Francis recited In Flanders Fields during the service, and Mark Fenby sang I Was Only 19 as community members placed poppies on the cenotaph.
La Trobe MP Jason Wood also spoke, war planes flew overhead in a special display, and recorded sounds of war rang out during the service, from bombs to gunfire.