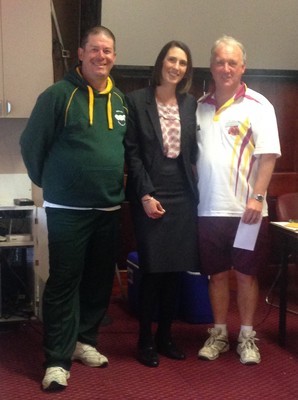 By Eric Markham
On Saturday 10 November, Monbulk Bowling Club's number one side played at home against Croydon, who were second on the ladder.
It was always going to be a testing competition and that's how it played out.
Brian Smith's team was five shots up on the 10th end, then dropped shots after the break, allowing Croydon to equal by the 16th end.
Then Croydon won a three, and a one, and another one, to put Monbulk behind by five shots with only two ends to play.
Smith rallied his team and they scored a two and a three and managed to finish with a respectable 17 shots-all draw.
Richard Cookson's rink was down four shots to eight on the eighth end.
They managed to regroup strongly and only drop three ends after that, coming away with a very strong win, 30 shots to 14.
Andrew Bells' rink was up six shots after the first three ends.
Then Croydon started getting used to the Monbulk green and came back, equaling at 10 shots all on the 11th end.
Then it was a slugfest, both sides winning some shots, until the 18th end when Croydon finally got their noses in front for the first time, 18 shots to 16.
That's when Monbulk put their heads down, focused and picked up six shots on the last three ends to win 22 shots to 18.
The drama award of the day would have to go to Eric Markham's rink.
All day they were struggling on this rink.
They gave away 10 shots within three ends and were eight shots down by the 12th end.
At the conclusion of the 16th end they were still seven shots behind.
However, things dramatically changed and on the 17th end they picked up four shots.
On the 20th end, Monbulk picked up three shots to level the scores going into last end.
In a nail-biting finish, the skip with his final bowl moved the jack to his team mate's bowl, picking up one shot to win 19 shots to 18 – the only time for the whole day that they were in front.
Overall, Monbulk won 88 shots to 67, moving the side into third position on the ladder.
Monbulk 2 travelled down the highway to Pakenham.
Peter Francis' rink was level at the halfway mark, then picked up a couple of four-shot wins in the back half to finish with a good win, 21 shots to 14.
Eric Furby's rink was close all day, slowly building up an eight-shot lead by the 18th end, then blowing away six shots the very next end to give Pakenham a chance.
They managed to just hang on and finish with a win, 25 shots to 23.
Lorraine McLaren's rink was strong in the front half, with a 10-shot lead by the half-way mark.
Then Pakenham bounced back and hit the front by the 17th end.
That's when Monbulk responded with a mighty seven shots on the 18th end and finished with a win 30 shots to 23.
Dick Coppin's rink took the lead on the fourth end with a big five-shot win.
Then, when it looked like they were headed for a big winning margin, Pakenham won a three and a four on the last two ends to level the scores at 20 shots all.
Overall, Monbulk won 96 shots to 80.
The side has only lost one game for the season and us sitting in third position on the ladder.
Monbulk 3 played at home against Vermont South.
Peter Hiscoxs' team maintained a close lead all day then managed a break-out in the final ends to score a win, 18 shots to 13.
Doug Elliott's team won nine of the 21 ends but, on seven occasions, gave away multiples from which it was difficult to recover.
The rink went down 20 shots to 33.
Overall, Monbulk lost 38 shots to 46.
That loss pushed the side out of the top four, but only by one point.
This Thursday 15 November, Night Owls bowls starts at 7.30pm.
Bowlers should dress casually and in flat-soled shoes.
Bowls can be provided. Players of all abilities are encouraged to attend and single players or teams can be accommodated.
Call the club or Dick on 0437 952 368 to play, or sign up in the foyer.
On Tuesday 6 November, the club held its Melbourne Cup day event.
Entries were filled well in advance, with bowlers travelling from many regional clubs to take part.
The weather forecast was not promising, and the bowlers arrived with their rain gear at the ready.
The competition was a pairs event, with men and women competing in three games with four bowls, then three bowls, then finishing with a quick-fire two-bowls game.
Unfortunately, the first round of play was still in progress when the skies opened, rain bucketed down, and bowlers had to retreat inside for an early lunch.
Then the sun came out, clouds of steam wafted through the air and the greens drained quickly, allowing bowlers to recommence play.
By the time the horses were lining up at Flemington, the bowlers had finished two games and still had the short, two-bowl game to complete.
At the awards ceremony afterwards, Monbulk and District Community Bank branch manager Aimee Te Boekhorst gave out the prizes and reiterated the strong alliance the Bendigo Bank had with the community and Monbulk Bowling Club.
Darren Bellingham and Eric Markham won first place, John Leitch and Juan Tortosa second place, and Jim Bras and Peter Koomen third.