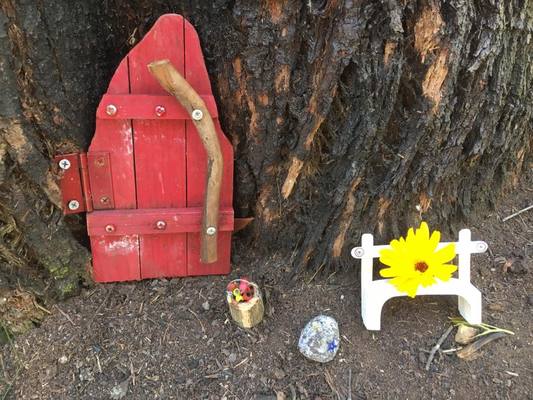 By Derek Schlennstedt
The magic has seemingly gone from Wright forest in Cockatoo, after the disappearance of a fairy garden.
Over a period of months, residents visiting the forest have reported seeing little doorways appear in the hollows at the base of the trees.
Emerald resident Lesley Gluckman took her grandchildren to the fairy garden and said it was particularly cute to see the magical additions each week.
"Each time we visited, there would be something new and exciting to see: another little doorway, little bikes made out of buttons and wire, a washing line filled with tiny fairy-sized garments, a post box so we could send messages to the fairies," she said.
Ms Gluckman said she only began noticing the magical paraphernalia three months ago, and that many residents began contributing to it.
"We spent hours there, checking out each little house and wondering at the surprises inside," she said.
"Our grandchildren left their precious little offerings for the fairies and I know that they think of that special corner of the forest in the same way that I remember The Enchanted Wood and The Magic Faraway Tree."
Unfortunately on a recent trip to the forest, Ms Gluckman noticed that the fairy paraphernalia including the doors had been taken down.
"When we went and it was all gone, we couldn't begin to understand who would do that," she said.
"Everything had been taken – all the little treasures, given with such love and emotion, have disappeared and the little doors have been pulled off by their hinges."
"That day when we went back along the Wright Road track and found all those wonderful things gone, the magic not only went out of the forest, but some of the magic went out of Emerald too."
According to the Friends of Cockatoo Facebook page, the fairy doors, along with all the fairy paraphernalia were taken in late October, though it is unclear what happened to them.