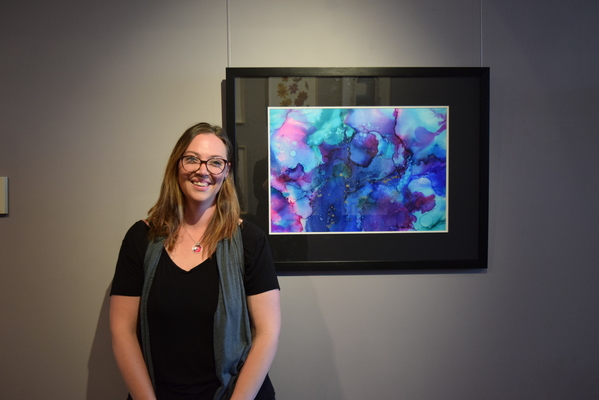 By Derek Schlennstedt
Rounding out Growing Pains initiative's incredible exhibition program, Your Favs brings together some of the public's favourite artists from exhibitions across the year.
Self-described as a "sick creative network, offering exhibitions, workshops and events to help young artists get their art out there and learn how to be freak'n amazing", Growing Pains has held a number of unique exhibitions at Burrinja this year.
Comprised of works by Amy Daeche, Georgia Steele, Nadine Keegan, Sabrina Fraser, Stephanie Reynolds and Tara Denny, the aptly called Your Favs exhibition is just a small sample of the amazing young talent Growing Pains has worked with throughout 2018.
Print maker Georgia Steele whose work is featured in Your Favs explores the interaction between the Urban and Natural world, while Tara Denny's clay sculpture is deeply personal and beautifully depicts how we are able to overcome trauma.
"Through the use of symbolism, metaphors in the medium collage open up the idea of moving from one place to another," Ms Steele said about her work.
"My objects are in a state of pure suspense – they turn a blind eye to death itself and are unaffected by its decaying touch," Ms Denny said.
Sabrina Fraser other artist featured in Your Favs uses acrylic paint and unusual materials such as cling wrap to create her work and said that her paintings are inspired by nature and fuelled further by her imagination.
"Each painting I work on emerges intuitively and rarely begins with an end result in mind."
Bringing our attention to the plight of the Black Cockatoo, Amy Daeche's lino prints and water colour's treasure the connection between these incredible creatures and helps to inspire responsibility in admiring, and effort in looking after our native bird species
Stephanie Reynolds draws her inspiration from the artistic potential within the colour palettes around her as well as the connection between the mind and nature and Nadine Keegan creates her stained glass works with both recycled and new glass.
"Your Favs" opens Saturday November 17 at 1pm with refreshments and the exhibition runs from 17 November until 9 December.