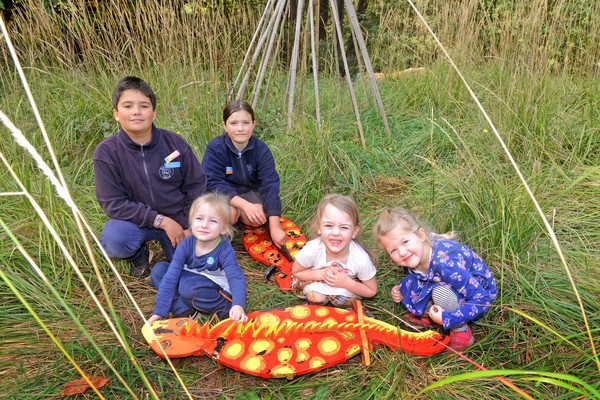 By Casey Neill
The Patch Primary School and Kinder have launched a new Forest Classroom program.
They unveiled the initiative on Monday 20 May, during education week.
For two hours a fortnight, in all kinds of weather, Grade 5 students will help three and four-year-old kinder children as they explore, investigate, and engage in activities under the guidance of an environmental educator and kinder teachers.
They'll spend the time in the different eco zones on the school's 15-acre site, from wetlands to fern gullies, a fairy garden and more.
The Patch Kindergarten teacher Joanne Rouse said she couldn't wait to get started.
"It's an amazing opportunity for our kinder children to use these amazing school grounds and to have interaction between Grade 5 and kinder children," she said.
"Never in my 30 years in kinder teaching have I seen a space like it."
She said parents told the kinder that they wanted nature opportunities for their children.
"I think it's serving the needs of the community," she said.
"It's addressing an increased need to have kids in nature – away from screens."
Ms Rouse said the program would also make the transition from kinder to school more seamless.
The school's assistant principal and environmental educator Michelle Rayner said the program was based on the forest school program of Scandinavia.
"It's about being prepared for the outdoors so you can enjoy it," she said.
"It's placing them in nature at an early age and building on natural curiosity."
Ms Rayner said participants would tap into everyday science through the experience.
"You don't need special science rooms, necessarily," she said.
Children will have time to observe, interact, consider and reflect.
She saw the program in action in Copenhagen in Denmark and Yorkshire in the UK first-hand, thanks to the Education Department.
The Patch's school garden has been growing since 2006 with hard work from the school community and funding from a few garden awards.
Ms Rayner said the school had also won maths and science awards for programs set in the garden.
"There's just nothing in the curriculum you couldn't learn from a space like this," she said.
"It backs up a lot of the theory that's taught in the classroom."