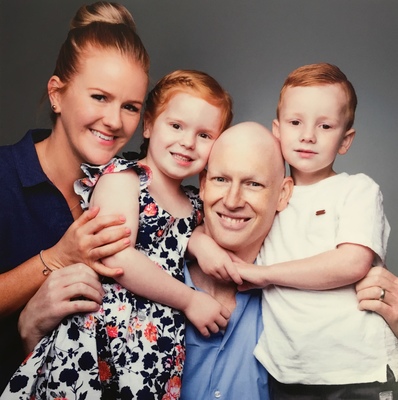 By Derek Schlennstedt
There are not many people in the Monbulk and Gembrook communities who don't know Christian Fraser.
Known to most as 'Bluey,' the hills local grew up in Monbulk and is a beloved teacher at Gembrook Primary School.
What many people might not know is that for the last 18 months he has been fighting an aggressive and rare cancer, which turned his entire life upside-down.
At 36-years-old, Bluey should be playing in the Monbulk senior's cricket team where he used be secretary, but instead he has an aggressive stage four non-Hodgkin's lymphoma, and since May 2018 he has undergone over twelve months of multiple different cycles of intensive chemotherapy, a number of major surgeries, and a stem cell transplant.
However, the lymphoma has not responded to the treatment and the family has no other choice but to travel to the United States to seek a new and costly treatment, which is not offered in Australia.
Speaking to the Mail, Bluey said the innovative treatment called CAR T-cell immunotherapy involves removing a portion of Christian's T cells – a type of immune system cell that fights off infection, abnormal or cancerous cells – and re-engineering them with a special marker.
"It's called CAR T-cell immunotherapy," he said.
"It's a few years old now and has been around long enough to be administered in the US but not fully funded here. It's only been available in Australia from April this year, but only if you're 25 years or under, so it's not funded for adults."
"All of my options have really been exhausted for treatment in Australia."
The treatment will require Christian to stay in the US for three months and a GoFundMe has been set up to help cover the associated expenses, which are expected to reach over $100,000."We need to be together during this time," Christian's wife Linda said.
"We've got a daughter Ella who is six and a son Hudson who is five, and my mother has generously offered to come with us and take of the kids, so if I need to be with Christian I can be but it's so important that we're there as a family."
Since being diagnosed Linda and Christian said they have received an overwhelming amount of support from the community.
Earlier in the year the community rallied to help fund a new family car for the Fraser's, so that Linda could drive Christian to all his appointments.
"We just really want to thank everyone for the support so far … friends and family, the Monbulk community and wider communities have been so supportive," Christian said.
"The community at Gembrook Primary School where I work has been fantastic and Linda works at Macclesfield, and it's really been overwhelming that so many people are there to support us."
"The gratitude we have can't really be put into words."
To donate go to: https://bit.ly/2Y7FrrK