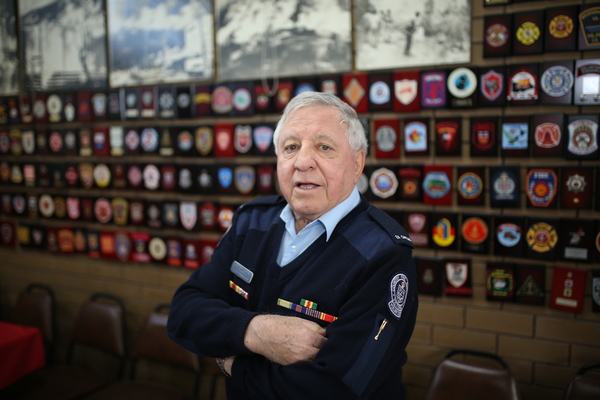 By Derek Schlennstedt
You could easily argue that Peter Marke is part of the bricks and mortar that make up the Upwey CFA station.
Atop the Upwey Brigade's door is a red fire helmet and a list as long as your arm citing the various titles that Peter has held in the Upwey community.
From a young mascot to a brigade captain, Peter's name is synonymous with Upwey, and of the 101 years that the Upwey CFA has served the hills community, Peter was there for 60.
Thirty-five of those he spent as the brigade captain.
He reflected upon the many memorable moments and close bonds formed since joining the brigade in 1959.
"It started when my older brothers joined the brigade…I toddled along behind them on my three-wheeler bike," he said.
"I used to be the brigade mascot and looked after the phone.
"In those days we didn't have any technology like we have today and I'd be sitting at the old fire station scared stiff of the dark and hearing noises at 2am in the morning, just manning the radio and the phones.
"After that I gradually, progressively became part of the furniture."
In the Main Street, Upwey, a plaque is dedicated to him for his role in establishing parks, forming township groups, initiating community banks and, of course, his many, many years as captain of the Upwey CFA.
Aside from roles as an operational fire fighter for more than half a century, he has been an active member of the community.
As president of the Shire of Sherbrooke and chairman and founder of the Upwey Bendigo Community Bank, Peter oversaw immense change within the Upwey area and was never one to take a back seat.
"It becomes part of your life and you tend to develop a pseudo-ownership of the place," he said.
"You just become part of the establishment of the town – part of the furniture – and by becoming that you want to see it develop and improve.
"I'm 76 now and it's been a hell of a time.
"I've seen Upwey and the hills grow and develop, but it's the people that make the area what it is."