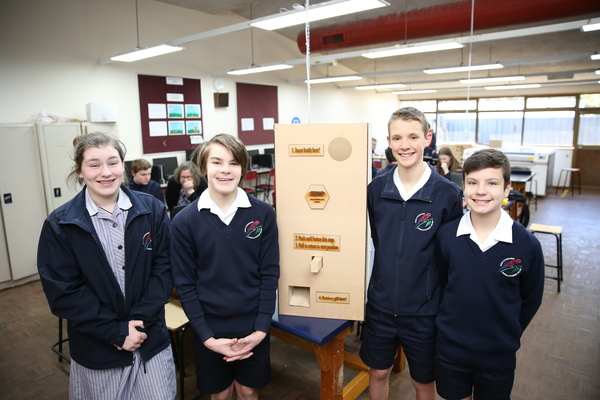 By Derek Schlennstedt
In this age of rapidly melting glaciers, terrifying bushfires and ever more damaging hurricanes, it is hard to believe that the people leading the charge on climate change are children.
But the reality is that the disconnect among our leaders on the impact of fossil fuels and a lack of action on sustainable alternatives is prompting young people everywhere to take action.
Now, more than ever young people are mobilising. Increasingly, they're giving up on words and resorting to actions.
At Emerald Secondary College students as young as 12 are hoping to better the community and help the environment by bringing attention to the "horrendous" state of rubbish pollution.
Five students in year 8 and year 7 are participating in an international competition for Future Problem Solving Australia.
As part of the competition, they have designed a reverse vending machine (RVM) that promotes the recycling of PET Plastics.
The team, acting under the pseudonym STOP (Stop Trashing Our Planet) told the Mail that the Victorian recycling crisis and a lack of leadership by those in power prompted them to act.
"We need to find a sustainable solution now so that we're ready for the future," said Year eight student Jaicob Barrot.
"The reverse vending machine is an incentive based idea … it provides an incentive for the user to recycle.
"When they recycle their bottle or can, they can get a reward and the idea of it is to reward good behaviours like recycling plastic bottles."
Once collected, the bottles will be saved from landfill and recycled responsibly.
The students haven't stopped at just one RVM though, and are designing flat pack RVM's that can be dispersed throughout the state.
They have also been given two fully functioning RVM machines from Envirobank and TOMRA. One is expected to be placed in Emerald, while the other will be used at their school.
"We'll be looking at putting one in our canteen and one in Emerald to collect data which we can then take to the State Government," Jaicob said.
"We're also looking at mass producing our RVM designs in flat packs which we can send out to other schools.
"We'd like other school's to take up our initiative so we can limit PET bottles throughout all schools and eventually the whole state."
Emerald Secondary College is the only state school in Australia that is through to the National Future Problem Solving Australia competition, which will take place in mid-October.