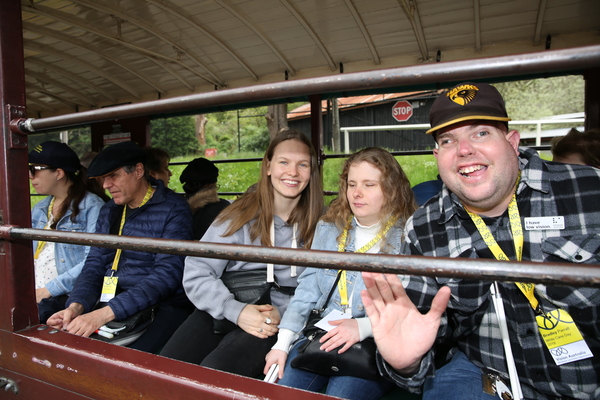 By Derek Schlennstedt
People who are blind or have low vision were treated to a day out in the Dandenong Ranges in celebration of White Cane Day.
Clients of Vision Australia began the day with a ride on Mount Dandenong's iconic Puffing Billy railway from Belgrave, followed by a barbeque lunch at Emerald Lakeside station.
The free event, held on 15 August was organised by Vision Australia's Melbourne outer east team to raise awareness of blindness and low vision conditions, and the impact white canes have day-to-day for people living with vision loss.
"People who are blind or have low vision are able to go out and enjoy life as much as anyone else can," Vision Australia regional business manager, Paul Warwick said.
Around 50 people with vision impairment enjoyed a relaxing ride through the ferny forests of the Dandenong Ranges, enjoying the smells, sounds and feel of puffing billy as it trundled along the track.
Mr Warwick said that for many a white can is a symbol of independence and play an important part in supporting their clients to be active and independent, whether it's at home or further abroad.
"Whether it's catching the train or going somewhere for lunch with friends, people who are blind or have low vision can be independent and experience the world around them thanks to their white cane and the orientation and mobility skills they have learned," Mr Warwick said.
Each year, Vision Australia works with thousands of adults and children who are blind or have low vision to enable them to live, work, and travel independently.
Puffing Billy Railway CEO, Steve O'Brien said he was pleased to be able to support such a worthwhile initiative.
"The Railway is thrilled to be involved in this cause, and to allow those who are blind or have low vision to still experience a ride on our iconic steam train is just wonderful."
"Just because somebody can't take in the visual elements of this internationally acclaimed tourism attraction, doesn't mean they can't experience it in other ways and still enjoy a fantastic day out!"