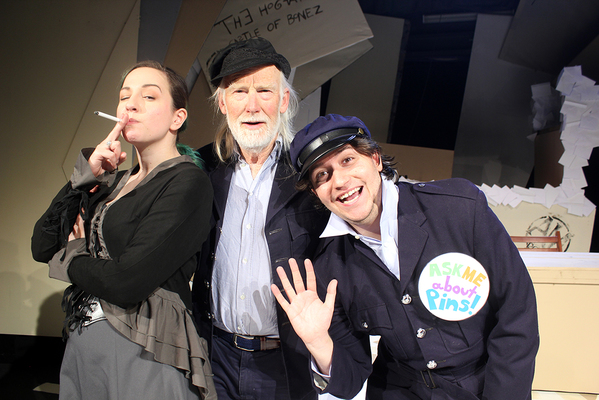 By Derek Schlennstedt
From Gemco Theatre and best-selling author Sir Terry Pratchett comes a hilarious send-up of redemption in the age of technology.
Going Postal is the story of arch-swindler Moist Von Lipwig (Jackson Cowan) and the beautiful, vengeful Adora Belle Dearheart (Tina Chalmers).
A life-long travelling con-artist, Lipwig's crimes finally catch up with him in the town of Ankh-Morpork.
Faced with death by hanging, Lipwig is spared by Lord Vetinari (Trevor Mills), who sees him as the perfect man for the role of Postmaster in the decrepit Ankh-Morpork post office.
With the help of a golem who has been at the bottom of hole in the ground for over two hundred years, a pin fanatic and Junior Postman Groat, he has to see that the mail gets through.
Director Evie Housham spoke to the mail about the play and the importance of letters within the play and modern technology.
"People used to write a lot of letters and this play is basically saying emails have taken over and the interest in hand written letters has disappeared, but letters are much more emotional – you can't put a pressed flower in an email or seal it with a kiss."
"I think this particular play is talking about how money drives everything and that when money is involved people's safety and care disappear," she said.
Of course, before he comes anywhere close to that success, Lipwig will have a multitude of problems to overcome said Ms Housham.
There is his parole officer – a golem made of clay that, like any other government official, is tireless in his sense of duty; there is undelivered mail which insists on talking to him; the shadowy characters from the Grand Trunk Company who want him deader than his dead letters, and his new "girlfriend" who sees straight through him.
In the mad world of the mail, can a criminal succeed where honest men have failed and died? Join Gemco in this hilarious adventure from the world of famous author Sir Terry Pratchett.
The play is held every weekend of October and to book go to https://www.gemcoplayers.org/whatson/2018/12/5/going-postal