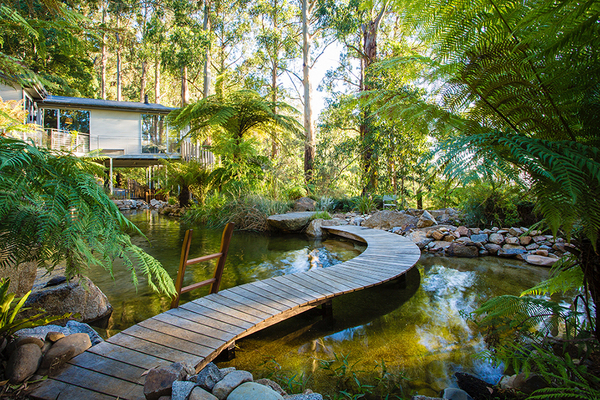 By Derek Schlennstedt
Open Gardens Victoria will open the naturalistic Dandenong Ranges garden created by renowned landscape designer Phillip Johnson.
Stepping into Phillip Johnson's 2.8-hectare property at Olinda, surrounded by towering Mountain Ash (Eucalyptus regnans) and with filtered views out to the Yarra Valley, you could be forgiven for thinking you'd stumbled upon a natural waterhole in a native forest that has been there forever.
Such is the clever design behind the garden at Billabong Falls, which was the inspiration for the 'Trailfinders Australian Garden' that won 'Best in Show' at Chelsea Flower Show 2013.
Phillip specialises in the establishment of environmentally sustainable billabongs, natural (chemical free) swimming pools and water features that are replenished by stormwater, set within naturalistic landscapes where rock is used to spectacular effect.
The land at Billabong Falls has a 22-metre level change from the top of Phillip's studio to the base of the landscape, which has allowed runoff water from the driveway and roof to be channelled beautifully throughout the landscape into two billabongs. One billabong has now become a natural-filtration swimming pool with a serpentine timber walkway and small pebble path that creates a reflexology experience in bare feet.
Other garden features also include dry riverbeds, an outdoor shower, and a beautiful private sitting area complete with firepit.
The rocks used have all been sourced less than 20 kilometres from the property and consist of angular hornfels rock and bronze granite. All painstakingly craned into place.
The soil is a fertile red volcanic or mountain soil – set within the Dandenongs' wet-sclerophyll rainforest of eucalypts with an understorey of ancient soft and rough tree ferns.
Planting has followed a sympathetic theme of native plants that can cope with the shady conditions, while rock steps are softened by gently creeping Kidney Weed and Native Violet.
Phillip's Design Studio will also be open to the publicalong with the garden on 23 and 24 November. Entry is $10, though under 18's are free.