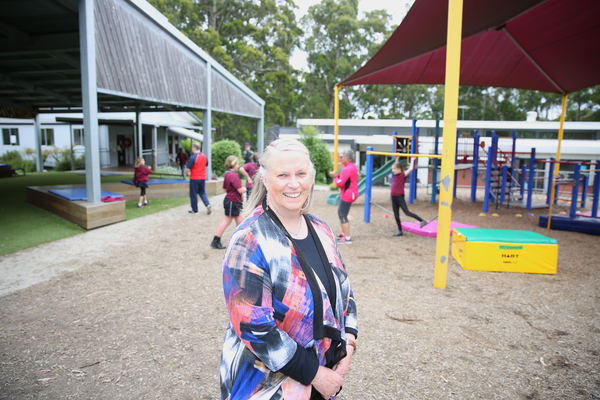 By Derek Schlennstedt
A passion for helping children has kept Tanya Cooke at Menzies Creek for over 30 years.
But after more than three decades in education, Menzies Creek Primary School principal Tanya Cooke is looking forward to no longer having to set the alarm.
The passionate educator began her career in Kilsyth, but moved to Menzies Creek in 1983. She has since become an enduring member of the local community and has been integral in creating a pre-school at Menzies Creek.
Speaking to the Mail, Ms Cooke said she was inspired by a principal at her first job who believed in her, and she has sought to do the same.
"I started at Kilsyth primary in 1979 and had an amazing principal who was a female, which was unusual at the time," Ms Cooke said.
"Not that I ever dreamed I would ever get into leadership, but I look back now and she did have a great impact on me, because she walked alongside you and no matter what you were doing in the classroom she would come and be a part of it.
"In so many cases principal-ship has become a managerial role and she really got through to me then what an advantage it is for yourself but also the kids to be a hands-on principal."
For the past 30 years, 15 of them has been as principal, and Ms Cooke has presided over the school in her signature style: formal, but enthusiastic; firm but kind, and always ready to listen to the concerns and feedback from parents and students.In Ms Cooke's eyes, principal-ship goes far beyond the boundaries of school times.
"The biggest skill is to be a listener," she admits.
"You need to be strong but it's about being alongside when you're with the kids, the staff and the families."
"That's even more important now because there's so many mental health issues and things in society that are so fast paced. Parenting has a huge spotlight on it and so for me it's walking alongside them to make sure you're supporting them, because ultimately that supports the kids."
During her time at Menzies Creek, Ms Cooke has overseen building and grounds work, including the inception of a pre-school.
Most notably, Ms Cooke guided the school through its most disruptive event in recent history, when in 2016, during a violent storm, the School fell victim to a tree that crushed one of its buildings.
"I'll never forget that moment ever," Ms Cooke said.
"Just to see how that whirlwind had ripped that tree and taken it a completely opposite direction from its natural falling direction and done so much damage was heartbreaking."
"The surrounding schools were so generous for, as were the parents. We went for four days with no power in the freezing cold, but everyone rallied and the new potables were up in a week."
A big believer of being a hands-on principal, Ms Cooke still taught in the classroom until three years ago.
She said working at Menzies Creek has been a rewarding experience and one that she will always cherish, though said it was the community who was responsible for making a school successful.
"It takes a community to make a school successful it doesn't take on person. That's the legacy I would wish to continue to happen at Menzies. It does take a community more than ever and that is the bit that I would love to see continue and that's the bit I hope I've done my best to create."
It surprises Ms Cooke that she is ready to leave Menzies Creek, but she looks forward to enjoying more time with her sons and grandchildren and her husband
A celebration of Ms Cooke's 30 years will be held on 19 December at 5pm at the Menzies Creek Primary School Green Space. Previous students are invited.