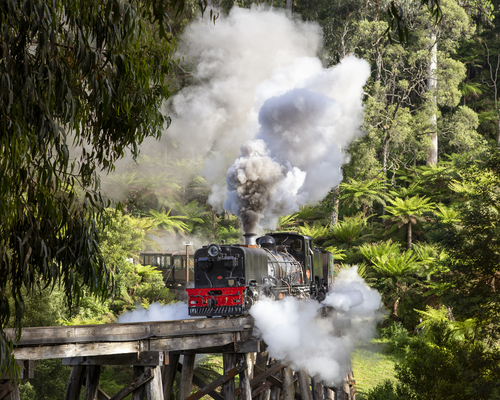 By Derek Schlennstedt
Coinciding with Puffing Billy's 119th birthday, a fully restored cab, South African Class NG/G16 129 Garratt locomotive became operational on 18 December, 2019.
The unveiling fulfils a 23-year-old project of fundraising and restoration works.
Built by Beyer Peacock & Co of Manchester, England, in 1951 for the South African Railways, the NG/G16 was a class of steam locomotive used to deliver agricultural and mineral products across the hilly terrain and tight curves of South Africa's rural railways.
Its purchase in 1996 for the Puffing Billy fleet was spearheaded by two men – Peter Ralph and Alan Gardner – with a dogged determination to obtain a highly regarded Garratt locomotive; one that would support the sole surviving Victorian Railways Garratt, G42, which was being restored at the time.
The locomotive arrived in Belgrave where it was exhibited for the benefit of fundraising contributors and photographers, before being disassembled.
There it stayed for 15 years while fundraising and donations continued to build for the estimated $2.4 million restoration.
It wasn't until 2005 that a feasibility study was requested and Puffing Billy's NG/G project engineering team, John Brady, Harry Hibgame and Russell Hicks, were tasked with conducting this study and later plan the never-before-done regauging of a two foot gauge Garratt locomotive to two foot six inches and its complete restoration.
As momentum built in 2011, a dedicated team of volunteers and workshop crew, including John, Harry and Russell, commenced full re-gauging and refurbishment works.
Its first fire was lit on September 26, 2019, and the engine began moving under its own steam on November 6, 2019.
But the labour of love for this 23-year-old project has finally paid off, with the NG/G16 129 returning to traffic on December 18.
John Brady, who led the feasibility study, says that although it has taken some two decades to get to this moment, he is proud to see it on the track.
"It's been a long time coming, but I am enormously proud of what has been achieved. It is so important that these locos are kept as they are, which is why it was crucial to get this right the first time," he said.
:My sincere thanks go to the volunteers, workshop crew, Puffing Billy Preservation Society and the Emerald Tourist Railway Board, but most importantly Peter and Alan, for which this restoration project would not have been possible without."
With its original wheels and cylinders, silver boiler bands, gleaming polished copper piping and a brand-new enlarged cab complete with windows, doors and seats, the NG/G16 will readily haul 16 full length carriages full of smiling passengers.