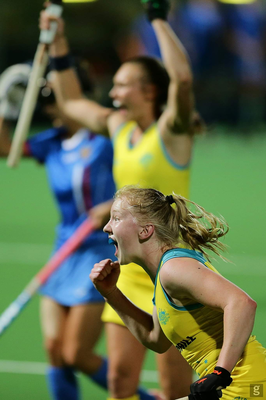 By Jessica Anstice
Hard work and perseverance paid off for Emerald girl Amy Lawton when she was recognised as a finalist for Young Athlete of the Year in the Victoria Sports Awards.
The 17-year-old Australian Woman's Hockey team Hockeyroos player said she was "shocked" to be in the running the prestigious award.
"I recall telling my family about the nomination and looking at the other nominees and thinking 'wow, these athletes are all so talented and have done such amazing things'," she said.
"I felt extremely honoured to have been selected and recognised amongst them all. This award is very special to me."
It was when she picked up a hockey stick for the first time at just eight-years-old that she fell in love with the sport.
After the sport was advertised in a school newsletter, Amy's parents, who both played hockey in school, suggested she gives it a go.
"Both my sister and I headed down to the Hookin2Hockey program at Casey Hockey Club and quickly fell in love with the game," she recalled.
"I don't remember much from these early years but remember being the little girl running up and down the field calling for the ball even when I probably wasn't the best option to pass to.
"After a year I moved to Southern United Hockey Club where I participated in their amazing junior development program. From there I played with boys up until I was 16 and was exposed to so many great players and coaches."
After growing up in Melbourne's south east suburbs, Amy recently moved to Perth to pursue her hockey career as part of the National Hockey program with the Hockeyroos.
"At the moment I am trying to get selected to play as many games of the ProLeague as possible," she said.
"This is the second year of this International Hockey League and plays an important role in preparation for Olympics later in the year. Obviously Olympics is something I am aspiring to be selected for and has been an ultimate goal of mine for a long time.
"But, I like to take things one step at a time, so I would firstly like to focus on making the most of my new daily training environment with the Hockeyroos and continue improving and hopefully gain some more caps along the way."
At a special awards ceremony, held at Marvel Stadium on Wednesday 26 February, Amy will be among those hoping to be recognised and celebrated for their outstanding achievements and commitment to sports.
"The Victorian Sport Awards is a premier event on the Victorian sporting calendar," Vicsports chairman Ron Gauci said.
"Vicsport is delighted to recognise and celebrate the wonderful achievements of our home-grown sporting heroes, from grassroots and community through to the elite level.
"The calibre of nominations in 2019 and subsequently the finalists chosen are an indication of the strength of our industry in Victoria and makes the process of judging winners a challenging but rewarding one."