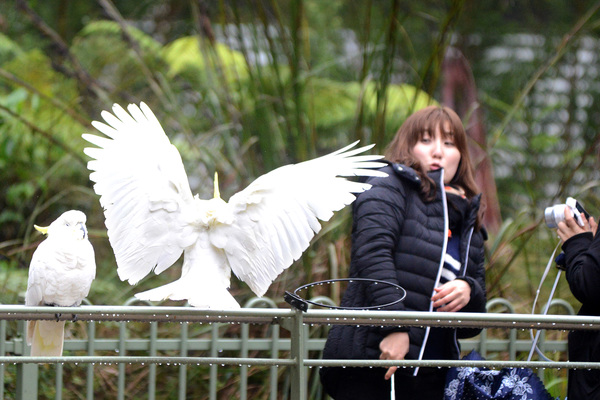 By Romy Stephens and Mitchell Clarke
Staff at Grant's on Sherbrooke cafe are urging the public to keep visiting Grants Picnic Ground with a triple whammy of events taking a toll on the business recently.
Cafe staff said visitor numbers have been down due to a combination of the East Gippsland bushfires, coronavirus and an end to bird feeding at the picnic ground.
A ban on bird feeding began at the picnic ground on 12 February and one day later, the Federal Government extended its travel restrictions on Chinese travellers due to the coronavirus.
Cafe manager Robyn Whittington said the combination of these events and the East Gippsland bushfires, earlier this year, have impacted visitor numbers.
"It's dropped dramatically in a matter of a few days," she said.
"It's the bird feeding and virus as well, we're not getting any coaches."
Cafe owner Cheryl Campbell said that despite the impacts, nothing's changed in terms of the cafe's services.
"We are open for business as usual because amazingly how many phone calls we're getting through asking if we're open for business," she said.
"They believe with the bird feeding gone that everything's closed…Regardless of bird, fire or coronavirus, we are definitely open."
The cafe has a range of attractions still available including a new nook with couches and games and toys for children, healthy smoothies, a licensed cafe, plenty of wildlife, souvenirs, bush walks, functions and much more.
Grant's on Sherbrooke isn't the only tourism venue that has felt the impacts of coronavirus over the past week, with Puffing Billy railway forced to cancel all services to Gembrook for the remainder of February, due to a decrease in visitor numbers.
The Federal Governments decision to implement travel restrictions for Chinese travellers had an "immediate impact" on patronage.
"As a result, we have had to reduce our service in response to the lower visitor numbers but are working closely with Tourism Australia and Visit Victoria to maximise all marketing opportunities that encourage visitors along," a Puffing Billy spokesperson said.
The township of Gembrook is expected to be impacted by the cancellations, but according to Eastern Dandenong Ranges Association (EDRA) chair Garry McGough, it won't have a "devastating impact".
"Yes, Puffing Billy is one of our significant contributors in bringing people into the town, but Gembrook itself has a strong tourism visitor rate from people coming here themselves," Mr McGough said.
"Unfortunately, a lot of the people on Puffing Billy don't actually spend a lot of money here because they often get picked up in a bus that meets them at the end of the railway."