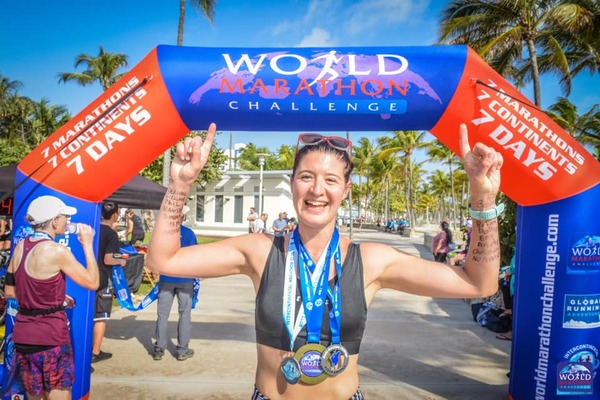 By Taylah Eastwell
When Beck Mitchell reflects on her teenage years as a troubled girl from Mount Evelyn, there wasn't a thought in her 17-year-old mind that she might one day be an inspiration to youths in her very position.
But if every journey begins with a step, Ms Mitchell's first steps up the stairs at Lilydale youth organisation Bridge Builders as a teen are to thank for the whirlwind adventure that just saw her run seven marathons across seven different continents in just seven days.
Now the Executive Officer and a youth worker at Bridge Builders, Ms Mitchell praised the organisation for changing her life during her teenage troubles and said her decision to compete in the World Marathon Challenge was about showing others that anything is possible.
Upon her return to Australia last Friday, Ms Mitchell can now proudly say she is just one of eight Australian women to ever conquer the challenge, raising $50,000 towards her $250,000 goal for Bridge Builders.
"I'm just some little kid from Mount Evelyn, no one knows where Mount Evelyn is. I grew up here on a farm and there are so many reasons why I shouldn't of been able to do it but I got out there and did it anyway and I really hope that sends a message of hope to others that anything in life is possible whether you think it is or not," she said.
"If you put your mind and your heart into it you can do anything. And I mean anything, because I just did it.
Embarking on an 85,000 kilometre round journey, Ms Mitchell ran over 300 kilometres while competing in marathons in Cape Town, the Antarctic, Perth, Dubai, Madrid and Brazil before breathing a sigh of relief upon sight of the final finish line in Miami, USA.
Competitors spent 63 hours and 15 minutes of their seven day venture in the air attempting to recover before the next race in the next continent, only stopping in briefly at hotels to drop off luggage to be minded for a few hours while competing.
The gruelling conditions in some continents meant runners had to acclimatise rapidly, boarding the plane in an icy minus 25 degree celcius in the Antarctic and finding themselves at the starting line in blistering 36 degree heat in Brazil within a matter of days.
But for Ms Mitchell, her intense training in the lead up to the challenge prepared her for the worst.
"I actually managed quite well. I did a lot of training back here in different temperatures deliberately. One week I was running up in the Dandenong's and its minus two and snowing and the following week I went and ran an ultra-marathon in Alice Springs in the desert. I really put my body through its paces beforehand because I was predicting that the weather was going to be a challenge," she said.
Running on ice in gale force winds, however, was not something Ms Mitchell could prepare for at home, admitting that she thought she was going to die in the relentless race in the Antarctic.
"The conditions in the Antarctic wouldn't allow our plane to land so our pilot wouldn't fly, so we had to fly down in a Russian cargo plane that's not built for people. Just going to those conditions for a day trip would be one thing but we're performing, running a marathon is like putting your body to the ultimate test and I'm out there doing that in ridiculous temperatures.
"I did feel a little bit like a giraffe at some points, my legs were just going all over the place and it was really slippery," she laughed.
But there was no time to rest. Ms Mitchell admits by the third and fourth races her body just wanted to give up.
"I calculated in the seven days I probably had 22 hours sleep on the plane. There were moments when I cried a lot of tears and just had to kind of keep pushing forward," she said.
It was running for a cause that fuelled the fire inside Ms Mitchell that kept her going. She wrote the name of a person who had lost their life to suicide on her left arm for each race and had a list of people that have changed her life on her right.
"I wasn't just running for me I was running for the charity, I was running for people who have lost their lives to suicide and running for a purpose is what got me through," she explained.
The money raised will be put towards programs at Bridge Builders to continue improving the lives of youths.
To read more about Ms Mitchell's journey or to donate visit: https://www.beckmitchell.com/.