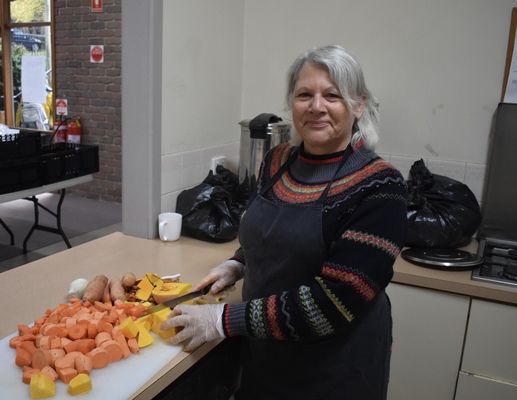 By Romy Stephens
Elisabeth Douma has volunteered her mornings every Friday for the past seven years at Hope in the hills Christian Church.
The church, based in Tecoma, offers free food and grocery assistance through its Hope on Friday initiative.
Hope on Friday is run by a group of volunteers, who supply fruit and vegetables, bread and a variety of grocery items every week for those who struggle financially.
When Elisabeth and her husband, who is now the minister of the church, moved to the area from Sydney seven years ago, she knew volunteering at the service would be for her.
"This is my forte," Elisabeth said.
"It's good because you get to know what people are struggling with in the community … It's real life."
Elisabeth would typically arrive at the church, alongside the other volunteers, before 8am and help sort food and groceries before using excess items to start cooking free meals.
The food and grocery assistance has continued to run during Covid-19, but under strict guidelines.
Attendees are now required to register and have their name marked down before entering the building under social distancing guidelines.
The church has also had to stop its provision of a free breakfast that ran alongside the food and grocery service.
Elisabeth said the breakfast gathering was greatly missed and a very important part of many people's week.
"They miss the gathering, the chatting because we have a community here," she said.
"We had about three tables and they would just talk about issues and stuff like that.
"We sat with them and listened to them, so we miss that."
Despite the challenge that often comes with helping those in hardship, Elisabeth said volunteering is an extremely beneficial part of her life.
She said she had learnt a lot from the many different people that walk through the doors of the church.
"You think we're here to give a lot, but no, they give you what life is really about sometimes," she said.
"Just their simple way of living."
Hope on Friday has been running for about 15 years and continues to run during Covid-19.
There is no cost involved and no requirement to provide identification or a Health Care Card.
It runs every Friday morning from 8.30am-9.30am at 3 Clifford Grove, Tecoma.
For more information, visit www.hopeinthehills.org.au.