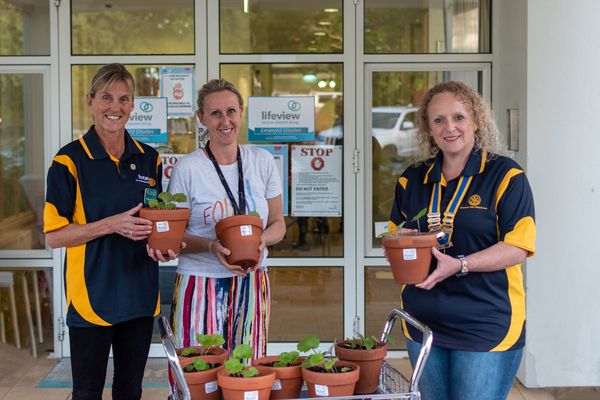 By Romy Stephens
Emerald Rotary has been working to "lift the spirits" of elderly residents during this period of isolation, by providing gifts.
The rotary club recently organised numerous donations to residents at Emerald Glades including magazines, 20 hand-made bookmarks, 15 pot plants and personalised cards from local primary school children.
Emerald Rotary Club community service chair Susi Wilson said the club wanted to do something positive for vulnerable residents who couldn't get outside much due to Covid-19.
"Our idea was just to lift the spirits up," she said.
"We thought at this stage, there are lots of projects the Rotary Club can't do because of restrictions and we're always looking to help young or elderly or someone in need.
"We just thought what can we do to lighten up their days a bit.
"We wanted to just give them a little present and say 'you're not alone, the world is still out here for you'."
Despite being forced to take their meetings online, Emerald Rotary has continued its community work by helping local residents in need.
Ms Wilson said she wanted to let people know that the Rotary is there for anyone in need of help, even if it's a simple task such as mowing lawns.
She said Rotary members enjoy helping their local community, particularly during these difficult times.
"We would like to point out that Rotary is here to help anybody," she said.
"It's such a rewarding thing to do something for the community and feel like we can do something positive and make somebody's day."
For more information about Emerald Rotary Club, or to get in touch, visit www.emeraldrotary.org.au.