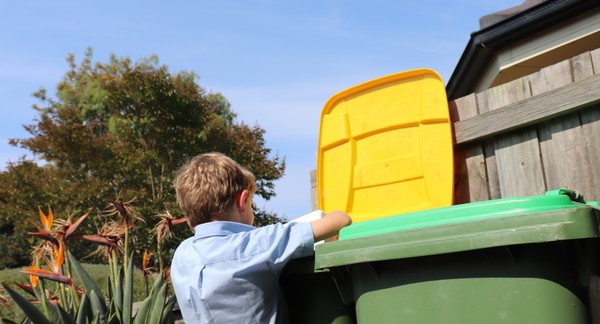 My Green Home and Garden
Cardinia Shire Council's new My Green Home and Garden project is Connecting Cardinia and helping residents learn more about disposing of waste correctly and their local environment.
With a range of free waste and environmental resources, tools and activities, community members can have fun and learn new things at home, as well as ask questions and share their creations and contributions in the online community project at www.cardinia.vic.gov.au/connectingcardinia
The online resources and activities include:
· Free downloadable colouring and activity sheets.
· Birding at home – a space to post photos and ask experts to help identify which birds are visiting your backyard.
· Inspire others or be inspired by the many ways to live sustainably in your home.
· Tips to start your composting adventure or ask questions.
The resources are designed to be enjoyed by both adults and children.
To access the resources and activities, participate in the online project, and for more information visit: www.cardinia.vic.gov.au/connectingcardinia
Working for Victoria scheme
The Working for Victoria scheme's community cleansing blitz is underway in Cardinia Shire.
Citywide cleansing workers will be working in shifts from 7am to 6pm daily, seven days per week, for the next few weeks.
They'll be disinfecting frequently touched hard surfaces in public spaces, such as hand rails, poles, signs, furniture, bins and other public infrastructure, in a proactive attempt to reduce the spread of Coronavirus (Covid-19).
The Victorian Government program complements the public space cleaning and maintenance work Council is already undertaking.
The taskforce of public space cleansing and sanitisation workers deployed across Melbourne communities will help prepare and keep public spaces clean, safe and healthy as our communities begin returning to everyday life.
The program is also helping to support workers displaced from their original jobs due to Coronavirus (Covid-19), providing them with work opportunities in other industries.
Youth Services News
The Cardinia Shire Youth Services team has released a new 'Youth Services News' e-zine and is looking for a committee of young people to help develop future editions.
The new online e-zine is distributed weekly via the Youth Services Facebook page and features:
· Youth Services news
· Information and tips for young people
· Activities, including puzzles and quizzes
· Pride corner feature
· Covid-19 updates
· Up-to-date information on what's happening in Cardinia Shire to support young people.
The e-zine has been developed to support young people in the shire while they are unable to access My Place Youth Facility and face-to-face youth services due to the Coronavirus pandemic. However, given the success of the first four editions, the service will continue to be developed beyond the pandemic.
Young people thinking of applying must live in Cardinia Shire and be between 12 and 24 years old. Committee members will have the opportunity to be involved in the content creation and design of the e-zine.
To apply to be a member of the Cardinia Shire Youth Services Newsletter, email your expression of interest to myplace@cardinia.vic.gov.au or contact us on 1800 496 884 to get more information.
Young people who do not want to be part of the committee can also submit content by emailing myplace@cardinia.vic.gov.au
To view the Cardinia Shire Youth Services Newsletter, visit the Cardinia Youth Services Facebook page or send your email address to myplace@cardinia.vic.gov.au to subscribe to never miss an edition.
For more information about Youth Services in Cardinia Shire, visit www.cardinia.vic.gov.au/youthservices
Maternal and Child Health
Cardinia Shire Council's Maternal and Child Health (MCH) Centres are continuing to operate as a booked, over-the-phone consultation service to help reduce the risk to our community and staff throughout the Coronavirus (Covid-19) pandemic.
MCH phone consultations are taking place at the key ages and stages of a child's development. Throughout the month of April, Council's MCH nurses provided 1163 phone consultations and 140 newborns visits.
During these extreme circumstances, Council is also offering an extra visit to families with two-week-old babies.
In April, Council's MCH nurses visited 147 two-week-old babies, providing a brief home visit to weigh and physically check the baby.
Phone consultations can be booked by calling 5943 4250 for infants four months and under. For more information about Council's MCH services, visit www.cardinia.vic.gov.au/mch