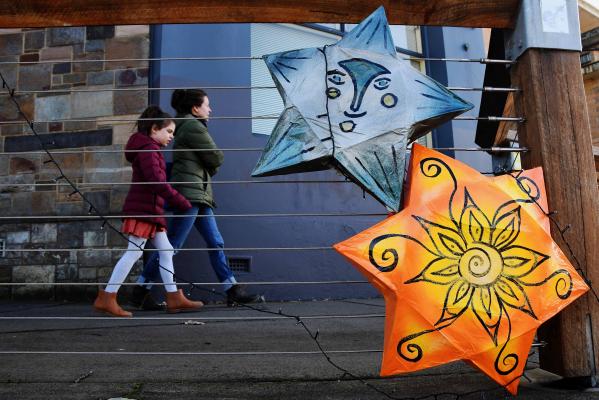 By Romy Stephens
The success of the year's reimagined Belgrave Lantern Parade has ignited talk of the parade taking on a new shape for years to come.
When Covid-19 restrictions came into effect earlier this year, parade organisers were forced to adapt the one-night event, typically attended by thousands of people, into a two week installation festival.
As a result, lanterns have been dangled throughout the main street of Belgrave for the past two weeks.
Event coordinator Jeremy Angerson said it had been delightful to see the event's success
"I don't think you drive down the street and not see someone pointing or smiling in a window or a kid hunting for their lantern that they've made," he said.
"The event was oversubscribed in terms of our lantern making kits and traders wanting to get involved.
"We were just thinking on our feet at the time about how to make sure that this event and this special night kept connecting people.
"The empty shops are now filled with a cast of characters which has been wonderful and as the sun goes down it just gets better."
This year's festival saw lantern making kits provided to residents and live streamed lantern making workshops facilitated by local artists.
"On the first day we had already almost got rid of every kit that we had made, they disappeared within days," Mr Angerson said.
Lanterns were then collected, placed throughout the main street of Belgrave and turned on to mark the Winter Solstice on 20 June.
Mr Angerson said the event has been overwhelmingly popular and had even stretched out to towns such as Tecoma, Olinda and The Patch.
"What we discovered was that it's not just Belgrave, it's the entire hills community that embraces this event," he said.
"We'll see what happens in the future but no one's feeling short-changed by having a festival and not a parade.
"I think we may have settled on a really workable second option, it could even become a blend of parade and installation."
"It's really something that could expand into every township but be anchored in Belgrave."
Mr Angerson thanked the town and store owners for embracing this year's Belgrave Lantern Parade.
"The good will has just kept flowing which has been really heartwarming," he said.
"I don't think people realised until they saw it up, the impact that it would have.
"You can't underestimate the cheer that small things bring to people's lives.
"We've been in a particular landscape of fear and bad news. To have something like this crafted by the community, made by families in fellowship with local artists, in a local spectacle has been a way of taking our foot off particular fear levers and transforming into something immensely positive."