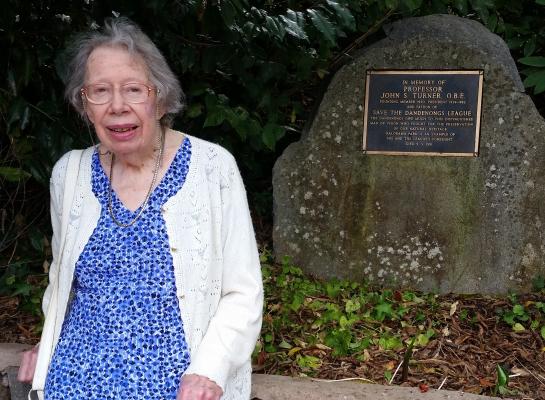 By Romy Stephens
Yarra Ranges environmental activist and former Shire of Sherbrooke President, Betty Marsden OAM will celebrate her 90th birthday later this month.
Mrs Marsden has dedicated her life to the community, including being involved in Save the Dandenongs League (STDL) for almost 45 years and being a local councillor for seven years.
She said the Dandenong Ranges had meant "a great deal" to her over her lifetime.
"The main interest outside my family has been the Save the Dandenongs League and the area that used to be called Sherbrooke," Mrs Marsden said.
"The preservation of it has been extremely important to me."
Mrs Marsden has lived in the Dandenong Ranges for about 50 years. She joined the STDL committee in 1977, during a time in which there were competing pressures between conservation and development.
"There was the battle in what development the Dandenongs could stand without being spoiled as a tourist attraction or a place of natural beauty," Mrs Marsden said.
Four years later, Mrs Marsden became a Councillor for the Shire of Sherbrooke and served as the shire's president for a year.
She became president of STDL in 1986 and, apart from one year, has remained in that role ever since.
One of Mrs Marsden's proudest achievements was her role in convincing the Sherbrooke Shire to buy Birdsland – a 75-hectare Belgrave Heights reserve for recreation and environmental education.
"The council made a decision, and it was a controversial decision at the time, to buy Birdsland," Mrs Marsden said.
"It was an important decision and one I'm proud of. We set up a committee afterwards and I was involved in the committee to work out how we would use it.
"When I was on the council there were a number of councillors that were very environmentally or conservation-minded. It was because we all worked together we were able to achieve a lot in the 80s to set up planning schemes and things to protect the environment."
Mrs Marsden has also been involved in numerous musical activities throughout her life, including membership in the Northcote Community Choir, singing at the Melbourne Olympics in 1956 and more recently, she was involved in the Mountain Minstrels and Emerald Evergreens.
All of her achievements saw her receive a Medal of the Order of Australia (OAM) and a Yarra Ranges Mayor's Lifetime Achievement Award in 2011.
She said she wanted to extend her recognition to the many other people that had helped preserve the natural environment of the Dandenong Ranges over the years, including local environmental groups.
"Friends groups and Landcare groups that have existed for numerous years…It's all on a volunteer basis and they've made a big difference and that's one of the assets we have these days," Mrs Marsden said.
"These groups help both the Parks Victoria and perhaps local council in some instances, they're all working to keep the Dandenongs as good as they are now."
Despite Covid-19 restrictions not allowing for a big birthday celebration on August 23, Mrs Marsden said she hoped to have an informal gathering, with friends and people she had worked with in the conservation movement, later this year.