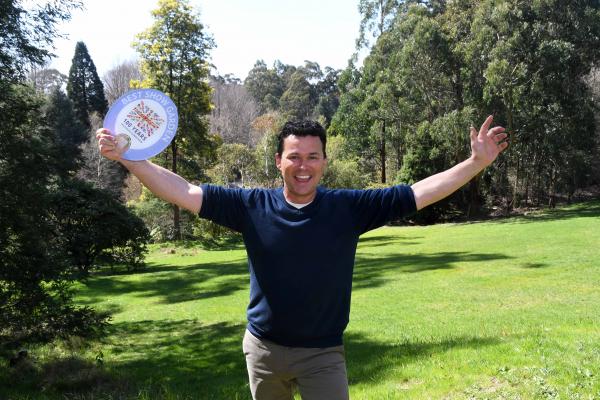 By Romy Stephens
An Olinda landscape designer hopes to bring an internationally-acclaimed garden to the Dandenong Ranges, with the help of the local community.
Phillip Johnson designed the first and only Australian garden to win the prestigious Best in Show at London's Chelsea Flower Show in 2013.
He is now looking to raise over $2.5 million to bring the sustainable garden design to the former Olinda Golf Course site.
"I think it's going to be one of the most amazing gardens ever built in this country," Mr Johnson said.
"It is the most history-making Australian native garden…This is why I want to bring it home.
"I want to diversify the Dandenongs to have it not just a shady wet area, actually so people will come and enjoy this at different times of the year.
Mr Johnson's garden was entered in the Chelsea Flower Show – Britain's top garden show – after he was approached by third generation nurseryman and Fleming's Nurseries director Wes Fleming.
"He said we've got to take this to London, to the Chelsea Flower Show, and I had to wait five years until that point," Mr Johnson said.
"It was my dream to go there as a designer to represent my country."
After taking out the top prize during the show's centenary year, Mr Johnson was offered to re-create the garden as a public art installation at many popular Melbourne locations.
But the Olinda local said he always knew he wanted the garden to be located in the hills.
"I actually really wanted to come home to where I'm from and to bring this whole life cycle of this journey," Mr Johnson said.
"A lot of the garden inspiration, areas of the ferns, was inspired by my own garden up in Olinda to show how beautiful our vegetation is up in the Dandenongs."
The garden will be created using innovative technologies to establish a sustainable space that can be enjoyed by the public.
It will use an off-grid power system, host a bushfire prevention system, harness water from runoff and be accessible by local CFA crews.
But Mr Johnson said the garden's practicality was not the only highlight.
"I went and represented our country to inspire people of the way we need to change how we design our landscapes," he said.
"Also what I love about this, it diversifies the very traditional garden that people in the past have always come to the Dandenongs to see, rhododendrons, azaleas, but that's all at one time.
"Let's bring people throughout the year to see a really cutting-edge sustainable garden that brings people to see the beauty of plants from our country."
A tree assessment has been conducted to ensure the garden fits in with Olinda's natural environment.
"The landscape I've designed here is 20 times the area of the original garden…It has to fit and sit with the landscape," Mr Johnson said.
"There are areas where you can have picnics, there are areas where you can sit and absorb and be immersed in the beauty of what I've come up with.
"It's got wheelchair access, it's got pram access…People with mobility issues will be able to get through the whole site as well."
Since taking out the top award seven years ago, plans to have the garden recreated locally have overcome numerous hurdles.
But with Monbulk MP James Merlino finding a suitable location at the former Olinda Golf Course and Mr Johnson pledging to maintain the garden through his own business, all that's left is raising enough funds.
"We have a site, I've put in maintenance for the next 10 years," Mr Johnson said.
"We still need to find about $2.6 million for this project to happen…We need to unite our community with something positive that is super important for the environment as well."
To find out more about the project or to make a donation, visit www.peopleandparks.org/projects-activities/chelsea-best-in-show-garden.