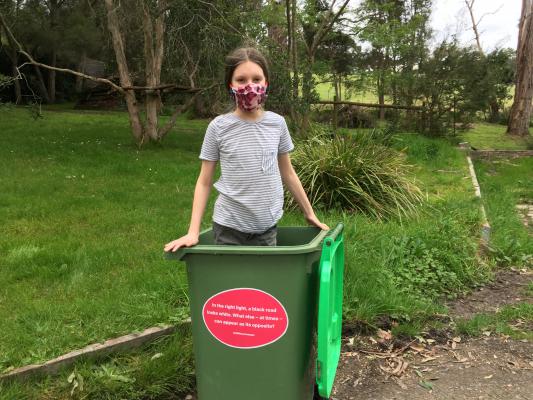 By Romy Stephens
Community members of all ages are being invited to participate in a council-wide poetry campaign, which sees haiku featured on rubbish bins.
As part of the Yarra Ranges Council's Still Life project, rubbish trucks bearing haiku have been driving around the shire for the #putoutyourpoetry campaign.
With most trucks already hosting a poem, the council is asking residents to write their own haiku for bins.
Submitted pieces will be printed out on a bright pink sticker and then returned to the author so they can stick it on their rubbish bin.
The campaign was initiated after local poet Lia Hills created a video on how to write haiku for the council's Still Life.
Council's Creative Communities team manager Greg Box said it was then about creating the opportunity for the community to get involved.
"We've been working for some time on how we might connect people on their streets, I was beginning to think what was it the Yarra Ranges did on streets?" Mr Box said.
"That brought up the idea of the rubbish truck rolling along once a week. There was a delight in the idea, what if you had poetry on rubbish trucks?"
"[Haiku] is a very simple three-lined form that allows everyone, from children to older people, to do these very small poetic responses."
Ms Hills and fellow Dandenong Ranges poet Cameron Semmens kicked off the campaign, with their pieces featuring on the rubbish trucks.
"This is a great way to bring the community into writing haiku because it's very visible," Ms Hills said.
"We've lost all those indoor galleries, or access to them now, so this is like an outdoor gallery space."
Ms Hills said there were many benefits of writing haiku which would be particularly important for residents during Covid-19.
"It helps bring you into focus, it helps you slow down and then you begin to see the deeper meaning of what you're looking at," she said.
"It helps you find that moment of stillness amongst what can be a chaotic time.
"Part of the art of haiku is to look at the faulty, the imperfect, the ephemeral and then to see the beauty in it.
"The idea of that is that you embrace imperfection which is a really good thing to do right now."
The #putoutyourpoetry stickers will be sent to participants free of charge, however, the Council is encouraging people to donate to Support Act, a charity that helps musicians during difficult times.
For more information about the campaign and to view the haiku instructional video, visit www.yarraranges.vic.gov.au/Experience/The-Arts/Still-Life.