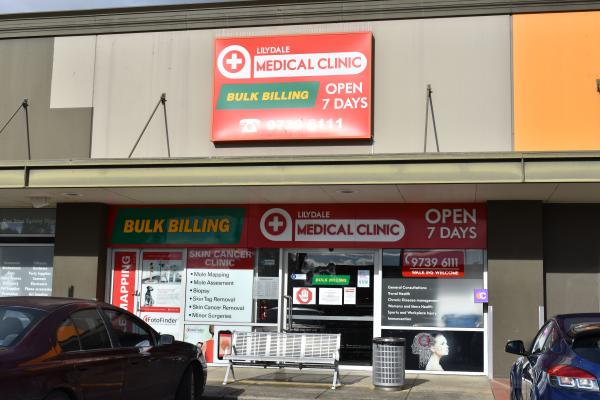 A knife-wielding man who was shot by police in Lilydale this morning is recovering in hospital with non-life-threatening injuries, according to Victoria Police.
Police were called to Lilydale Marketplace, near the Lilydale Medical Clinic, about 8.30am following reports of a man armed with a knife.
Victoria Police's Deputy Commissioner of Capability, Neil Paterson, said police attempted to negotiate with a 24-year-old man for about 15-20 minutes.
"Police confronted a man who was armed with a knife and made quite a number of requests for him to drop that weapon and stay away from police, to back off from police," he said.
"The man did not back off from police after quite a period of negotiation and then rushed the police members where I can say that a number of shots were fired by two separate police members.
"Shortly after those shots were fired another police vehicle arrived at that scene and the man was provided with immediate medical attention and first aid."
It's understood the man was shot about 9.10am and was initially in a serious condition with an injury to the upper body.
Deputy Commissioner Patterson said the man was then transported to hospital, where it's understood he was still receiving treatment but his injuries were not life-threatening.
The man was allegedly wandering around the Lilydale Medical Clinic and attended the clinic before the incident.
"At some stage, he was at a toilet in the shopping centre and it's in that location where they've found packaging for a knife and also some fire gel," Deputy Commissioner Patterson said.
Deputy Commissioner Patterson said it appeared the man may have had mental health issues.
"This is early in the investigation and we'll certainly explore those as an issue," he said.
"But what we have here is a man who has been wandering around a medical centre, and indeed the car park to a shopping centre, with a knife, he's been quite agitated and police arrival has tried to calm him down and negotiate with him to drop that knife, and that hasn't occurred after quite a lengthy negotiation."
Deputy Commissioner Patterson said the two police officers involved in the incident were from the Lilydale Police Station.
He said it was believed a male Senior Constable was involved, as well as a female Constable who only recently graduated from the police academy.
"Here we have a number of police involved in a very critical incident that they don't want to be involved in and we'll be making sure that we give the appropriate welfare support to our members," Deputy Commissioner Patterson said.
"We're also reaching out to the family of the man involved in that particular incident.
"When police members turn up to work on any particular day they never turn up to work wanting to use force or indeed shoot a person."
It's understood police officers that initially attended the incident were not equipped with a taser, however, they had activated their body-worn cameras.
"They have a number of other options including a baton, OC foam and spray and, of course, their firearm," Deputy Commissioner Patterson said.
"The Critical Incident Response Team turned up immediately following the shooting in Lilydale and those tasers would have been with them to use at that location, but we have not rolled them out across Victoria Police at this moment."
The man was believed to have been staying in the Lilydale area overnight but may come from the northern suburbs of Melbourne.
Detectives from the Armed Crime Squad will investigate the incident which will be overseen by Professional Standards Command.
Anyone who witnessed the incident or with dash cam footage is urged to contact Crime Stoppers on 1800 333 000 or submit a confidential report online at www.crimestoppervic.com.au.