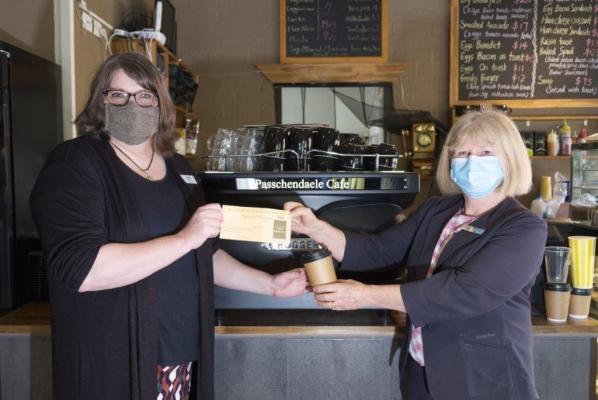 By Romy Stephens
A new campaign is providing free coffee and food to community members that are struggling during the Covid-19 pandemic.
The Mount Evelyn Community Bank Branch has launched the Coffee for the Community campaign, in a bid to connect with those doing it tough and provide them some joy.
The campaign will see the branch donate $5,000 worth of $10 coffee and food vouchers to local charities and community groups.
The groups can then dispense the vouchers to members of their community whom they know, or think, might be doing it tough right now.
"As a board, we each share strong beliefs in the strength that a sense of connectedness brings, and during these difficult times we know there are so many people struggling and feeling isolated and lonely," chair of the bank's board John Stroud said.
"We continue to explore ways in which we can help our community, having recently given over $50,000 to struggling community and sporting groups, and this latest campaign aims to support small business and community through creating a reason for people to leave their homes and pick up a take away cuppa at their local cafe.
"There has never been a more important time to reach out to one another ensuring that everyone feels like they are part of someone's community."
The vouchers can be redeemed at participating coffee shops and cafes throughout Mount Evelyn and Montrose.
The Storehouse in Mount Evelyn is one of the numerous cafes that is getting involved. Graeme Knoll owns and operates the cafe alongside his wife, Jaclyn. Mr Knoll said the campaign was a "kind gesture" that would help get people who were struggling into a warm and welcoming environment, like The Storehouse
"Throughout the whole Covid lockdown situation just having a regular part of your day that feels normal has been really important to people's headspace," he said.
"People are hungry for human connection, they miss seeing people's faces, familiar people especially.
"At The Storehouse you're pretty much getting the same staff on week in week out. We put in a big effort to remember people's names, we really want it to become a community hub.
"We've always tried to make it a personable part of the community where it's not just a transactional based interaction with the customers."
To see a list of all participating cafes and community groups, visit the Mt Evelyn and Districts Community Bank Branch Facebook page.
If you know of someone who could benefit from this initiative, reach out to one of the community groups listed for a voucher.