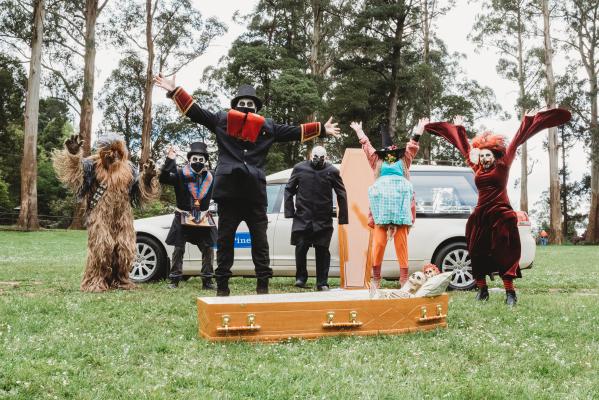 By Romy Stephens
Despite Halloween on the Green being cancelled this year, event organisers are encouraging families to still dress up and celebrate the occasion.
To compensate for the traditional Le Pine Funerals Mayors Parade that will be missed this year, Councillors from Yarra Ranges Council still got into the spooky spirit of things on 22 October.
Mayor Richard Higgins and Cr Tim Heenan got dressed up with Halloween on the Green creator Andrew Fillip-Gautier, entertainment director Rosalind Mackay and more to mark the event.
Mr Fillip-Gautier said Halloween on the Green, which is hosted by the Philanthropic Collective, will be "back in all its gory glory next year, with the emphasis on how death is celebrated through various religions and cultures."
"It seems cruel to have to wait another year but that's just what we will have to do as the team works to bring you even more hidden surprises on the day," he said.
Mr Fillip-Gautier encouraged families to still celebrate Halloween this week.
"Sadly, Halloween on the Green will take a bow for 2020 but that doesn't mean you still can't dress up and celebrate the day at home with family, and perfect your costume for the best dressed," he said.
Halloween on the Green was set to take place on 31 October, before Covid-19 hit.
Next year's event will feature a line-up of free entertainment and activities. Gracing the main stage will be Charlie Bedford, The Bean Project, Daisy West and for the very first time, rock royalty, Clare Moore and Dave Graney.
Free carnival rides, a trick or treat trail, Sim Sala Bim, Circus Ruccis, Day of the Dead stilt walkers, roving Fun Arts Marrachchi band, Scouts activities, stall holders and Peter Hurley's jazz in the hall will also feature.
And as per usual, the infamous Fletchers dunking machine (featuring the local Bendigo Bank manager) and the Le Pine Funerals Mayors Parade will be back.
Halloween on the Green is an annual fundraising event for local schools up on Mount Dandenong.
It is sponsored by Yarra Ranges Council and will take place at Ferny Creek Reserve on Sunday 31 October next year.