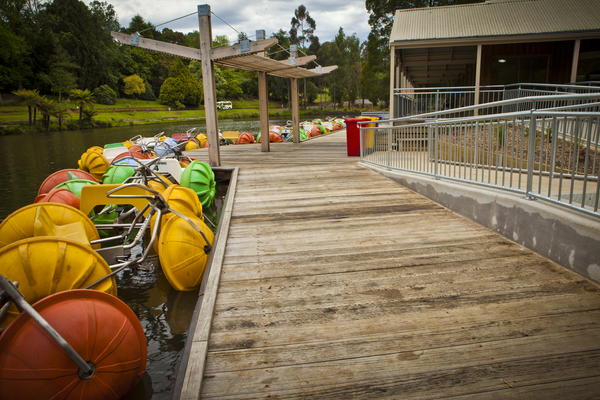 By Taylah Eastwell
DHHS has changed a Covid-19 exposure site listing from Puffing Billy to Emerald Lake Park.
Authorities listed Puffing Billy as an exposure site on Monday 4 January, claiming a confirmed case visited the venue between 3pm and 5pm on Thursday 31 December last year.
The DHHS website has recently been updated, with the confirmed case allegedly visiting Lakeside Paddle Boats at Emerald Lake Park on 31 December between 3.30pm and 5.30pm.
Puffing Billy staff were notified that Lakeside Station had been listed as an exposure site on Monday 4 January, but were later advised by DHHS on Monday evening that the venue had been removed from the list.
The railway closed temporarily on Tuesday 5 January and Wednesday 6 January as a precautionary measure following the original listing.
"Whilst we went to a lot of effort to notify our workforce and visitors, encourage testing, lined-up deep cleaning and cancelled services, it was a good practice run to demonstrate we are more than ready to effectively respond to a COVID warning," said Puffing Billy CEO Steve O'Brien.
Th Health Department list of exposure sites has quietly changed over the past week, with sites frequently listed and later removed or exposure times altered.
Chirnside Park Woolworths was originally listed as an exposure site, before later being changed to Coles in the same centre.
DHHS Deputy Secretary Jeroen Weimar told a press conference on Tuesday 5 January that changes should be expected given exposure sites are listed in "real time" during interviews with confirmed cases.
"The alternative is not to put it up at all. We have the option to say we will sit in a bunker and work on all these exposure sites and then release it in a perfect form seven days later, but that's not much point," Mr Weimar said.
"If that means there is a typo in the name of a cafe well I apologise for that," he said.
"I make no apology for putting out exposure sites where we may then, as information evolves and as we see more information come to bear, that we may either downgrade them or change time windows."
Victoria has recorded zero new cases overnight.
The number of active cases in Victoria is now 41, with 28 cases acquired in the community and 14 in hotel quarantine. Victoria has now exceeded four million Covid-19 tests since the pandemic began almost 12 months ago.