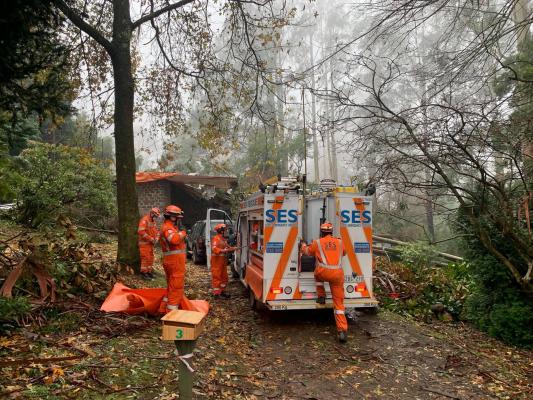 By Taylah Eastwell
Unit controllers at two local SES branches are calling for a third unit to be established in the Dandenong Ranges as emergency services struggle to keep up with callouts to the Hills.
Emerald SES unit controller Ben Owen and Lilydale SES unit controller Shaun Caulfield are "keen to sit down and have a conversation" with the appropriate ministers around establishing a new unit for ridge-top communities after both units were inundated with calls to Kalorama, Mt Dandenong and Olinda during the recent storm.
While the units proudly "work as one" in natural disasters and emergencies, the wide coverage areas of both crews stretches resources when action is required in disaster-prone areas of the Dandenongs.
Mr Owen said the need for a further unit really showed during the recent wild weather.
"It only showed on Wednesday night (9 June) when we had 12 code one responses in Kalorama, Mt Dandenong and Olinda to rescue people that had trees on their houses. Basically, every SES unit was around 25 minutes away on a normal day, and that's when you aren't cutting up trees in order to get to the job," he said.
Lilydale SES received over 1260 callouts in the week following the storm, with 900 of those jobs situated across Mount Dandenong communities, taking resources away from the wider Yarra Ranges area as it experienced flooding.
"We only cover parts of Kalorama, Mt Dandenong and a small part of Olinda, and the Emerald unit covers the rest," he said.
Emerald SES shares the suburbs of Olinda and Mt Dandenong, while also covering Ferny Creek, Sassafras, and the rest of the Hills region.
"We go right down through Belgrave, Belgrave South, Narre Warren North, Upper Beaconsfield, Gembrook, Cockatoo, Macclesfield, Emerald, Monbulk and everywhere in between," Mr Owen said.
Emerald SES volunteers assisted Lilydale with Kalorama callouts during the storm as Lilydale units were blocked by fallen trees, effectively taking resources away from the storm-battered wider Hills community.
"As we found out recently, there really is only one road to Kalorama and that is Mt Dandenong Tourist Road. We came across a section that had about 50 trees down and that effectively cuts us off from getting up there and cuts residents off from getting help," Mr Caulfied said.
Both Mr Caulfield and Mr Owen agree a unit on the mountain would alleviate the pressure and provide for a faster emergency response.
"There is a need for a rapid response up there on code red days or total fire ban days to clear roads. It is known for blind bends, trees in the dark and the risk for motor vehicle accidents," Mr Owen said.
"More vehicles and more volunteers would also assist the greater community during these situations.
"Both Emerald and Lilydale units are at least 25 minutes away. At the moment, the volunteers attending jobs up there are coming from Cockatoo, Emerald and Belgrave, if we had a local LHQ with local volunteers with local connections the response would be much faster," he said.
Mr Caulfield said an additional SES resource "needs to be seriously considered" not just for storms, but for all emergencies including bushfires.
"It would definitely be beneficial and we need to be having this conversation as we review the events of this storm. It might be a once in a lifetime event, but what it's done is opened our eyes to the fact that we've been managing but the everyday response could be far better. With a change in weather and climate conditions we can expect more turbulent weather, so we need more resources in the area," he said.