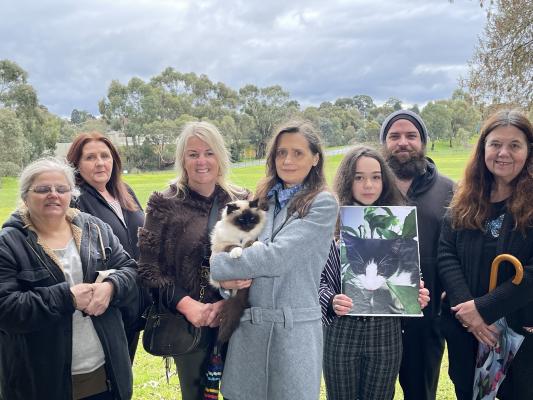 By Taylah Eastwell
Community pressure in Knox has resulted in council reconsidering a contentious plan to introduce a 24-hour cat curfew.
The Star Mail reported earlier this month that council had vowed to implement a kitty curfew from October 1. Over 2,880 local residents signing a petition to have the move amended, slamming the move as unfair and lacking community consultation.
Taylor Ward councillor Darren Pearce introduced a motion at councils 26 July meeting requesting that council receive a report at its August meeting that looks into alternative options for the cat curfew.
The report will look into whether a dual curfew of a 7pm until 7am night time curfew for all existing registered cats in Knox, and a 24-hour curfew for all newly registered cats would be feasible.
Cr Pearce also suggested that the report provide advice on council's ability to postpone the introduction of the curfew until 28 February next year, when the council's Domestic Animal Management Plan is expected to be adopted.
"Since the last council meeting I've done some thinking myself that we could have come up with a better resolution, a better overall solution," Cr Pearce told fellow councillors.
"In this last month I've had a number of residents contact me, they've been polite, we've had a very good discussion," he added.
Cr Pearce described the curfew as "like a football game – you're changing the rules at half time with existing cat ownership, and that's not fair".
Many residents had contacted Cr Pearce expressing their concern over the costs of keeping their cats enclosed, some estimating it would set them back around $2,000 for an enclosure.
"It's causing worry and stress anecdotally for a number of residents," Cr Pearce said.
He said that applying the curfew to newly registered cats would give residents the opportunity to make up their own minds about becoming cat owners, knowing fully well they would need to comply with the new rules.
"I think we need to delay its 24/7 implementation and go back and revisit the community consultation process and the integrity of the feedback," Cr Pearce said.
Mayor Lisa Cooper welcomed the motion and said it has become apparent that the Knox community is not feeling adequately consulted about the move.
"I think this gives another step in the process which will enable those who don't feel adequately consulted to participate," Cr Cooper said.
Tirhatuan ward councillor Nicole Seymour said she still believes a 24 hour cat curfew "is the way to go".
Cr Seymour said it is "already an offence" under state domestic animal legislation for a cat to roam onto someone else's property, arguing the 24-hour curfew would be just an extension of laws already in place.
"It does not mean that cats have to be indoors, cats can remain free to roam around their own property as long as they stay on their own property," Cr Seymour said.
"This policy is asking for cat owners to take more responsibility for the movement of their cats and be confident that your cat doesn't wander into a neighbours yard without permission and cause nuisance," she said.
"The 24 hour cat curfew was well intentioned although understandably unpopular by some in our community. It is important that council supports our community as we transition to whatever new local laws we put in place," Cr Seymour added.
Cr Seymour believes warnings should be given in place of fines for the first offence.
"It should be about education first, enforcement second, and doing what is in the best interest of the health of the cat, the health of our community and that helps address keeping our cats safe from infectious disease, preventing predation on wildlife and reducing community nuisance," she said.
Knox resident and creator of the petition, Andrew Dixon, said it is not a matter of education.
"Cat owners are well aware of the implications of the cat curfew. We still think it's heavy handed in its current state despite warnings. You can give someone as many warnings as you like but it still wont help them afford a cat cage or for renters to get permission to build one," Mr Dixon said.
Mr Dixon said council is failing to recognise the practicalities of the rules.
"If a cat is allowed outside but not off the property, how do you propose one achieves that without locking a cat inside or in a cage?," he said.
As it currently stands, feline owners will face $91 fines for first time offences but will be liable for fines of over $500 for subsequent offences.
The matter will come back before council next month.