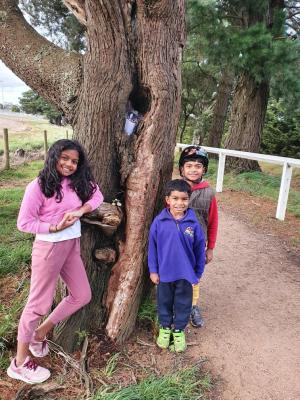 By Gabriella Payne
We may all be feeling the effects of Covid fatigue setting in, but one little girl and her brothers have thought up an ingenious way to keep people smiling through lockdown and created a magical little spot for the community to enjoy in the process.
Shaminka Fernando, a keen, 9-year-old writer from Gembrook has created a special "poem tree" along a popular walking track for locals to enjoy.
The "poem tree", created out of an abandoned hollow, allows passers-by to either leave their own poem or stop and have a read of some that she and her brothers Minsha (7) and Chash (5) have left behind.
Shaminka said that she had thought of the idea while on a walk with her family, as she loved writing and was sad to be back in lockdown and doing remote learning once again.
"We saw the hole in the tree and we thought we could do something with it," she said.
Shaminka said that she liked writing poems about nature, so she wrote one and put it in the tree's hollow along with her little brother Minsha, and they decorated it with a little toy and some leaves for the next person to find.
Shaminka's mum, Shashika Dabare said that she was very proud of her daughter for thinking of such a creative community activity and that Shaminka couldn't stop smiling after receiving such an overwhelmingly positive response from locals online.
"I am really proud of her because she is already writing poems at home and then she thought it would be a good idea when we went for a walk," Ms Dabare said.
"We're so happy because all the community love it and we haven't had time to go today, but she is so excited to go tomorrow and have a look for poems."
Ms Dabare said that her daughter, who is in grade four at Gembrook Primary School, was often found with "books and pens" in her hands and "she loves to go to school and learn, and that's why she wanted to do something like this", she explained.
"Shaminka wrote a poem about a tree, and she is encouraging other kids to put new poems in there, so she can read them and she will add more poems to that tree and they can read them too," she said.
The "poem tree" can be found along Gembrook's rail trail walking path and anyone and everyone is welcome to add their own little poem or rhyme at any time.