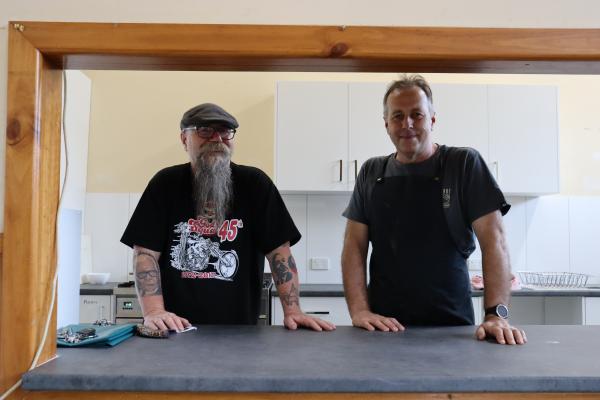 By Mikayla van Loon
Before Alan Deans joined Foothills Community Care 16 years ago, he never realised Ferntree Gully had quite a large population of people who were lonely or struggling for a meal.
"I was blown away really thinking this existed in Ferntree Gully. I always thought Ferntree Gully was a pretty affluent suburb and everyone was doing well," he said.
"When you really find out how many lonely, homeless people there are and a lot of the people they're basically lonely. A lot of them do need help but all of them just want that sense of connection with other people as well."
After running a catering business for over 20 years, Mr Deans was looking for a way to put his skills to good use when he stumbled upon Foothills Community Care CEO Steve Barrington at an event.
"They had a slideshow going on the Christmas Day lunch because they did one or two before I started and I just asked him what it was all about and found out they have issues cooking on Christmas Day because of the numbers," Mr Deans said.
Initially just helping to prepare the Christmas lunch for 150 people for the first two years, Mr Deans then started cooking for the Wednesday night community meal and has been doing so every week since.
"We'd been catering for so long, working for money so I thought it was about time to put those skills to good use and do it for love rather than the money," he said.
For all those years of service to the community, Mr Barrington put Mr Deans forward as a Westfield Local Hero and the community voted to award him the prize of $10,000 to go towards not-for-profit.
"He's been an absolute godsend. He was such a patient person. It can be pretty pumping in here in terms of getting the meals out on time," Mr Barrington said.
"But also sometimes with the people that come here it can be quite stressful as well. There's a lot of anxiety and a lot of people with quite a lot of challenges going on in their lives and so sometimes it can actually get quite testy but Alan is just really calm in just making sure it all runs smoothly."
Mr Barrington and Mr Deans both said the $10,000 will ensure Foothills Community Care can continue providing nutritious and warm, home cooked meals to those most vulnerable in their community by allowing them to continue buying food.
"Our whole philosophy is about creating safe spaces for people, and using food to do that and knowing that food insecurities in our local area is one of the big things," Mr Barrington said.
"It's not about charity, we give stuff to people but it's actually about creating safe places where people can connect together and come together. That's why we exist and food is a great way to do it."
Usually the Wednesday community meal involves a sit down dinner for up to 100 people but because of Covid-19 restrictions, volunteers have moved to a take away format where they are distributing at least 120 meals each week.
"We didn't think people would want to come out because they are a vulnerable group but we haven't lost anyone. They've all been coming," Mr Deans said.
"We might not see that many people on the site. A lot of people with a family they'll just send one member to pick up six meals and a few boxes of veggies. So it doesn't seem busier but the amount of food we are distributing is a lot more."
Whether a volunteer or someone needing a meal, Mr Deans said everyone needs connection and everyone is welcome on Wednesday night.
"I think a lot of it is just companionship as well. People need connection and I think a lot of people now we've all been in Covid and have been locked in our homes, it's been pretty bad for a lot of people but some people have been doing that for years."
Although supplying food and care packages to those in need has kept Mr Deans involved in Foothills Community Care for 16 years, the other part of it is that he gets to pass on his cooking skills to young people.
"We do get a lot of school kids, we get a lot of young people with no cooking skills. So I'll just supervise them, I'll get them to cook meals," he said.
"I try to do as little as possible but I try to get other people involved by cooking the meal and that's probably my favorite part about helping young people."
Foothills Community Care also runs a number of other programs, including a domestic violence support group and meal delivery.
EACH will also be onsite at the Ferntree Gully Girl Guides Hall on Wednesday 13 October with a pop-up vaccination hub.
To find out more about programs, volunteering or how to donate, go to https://www.foothillscare.org.au/