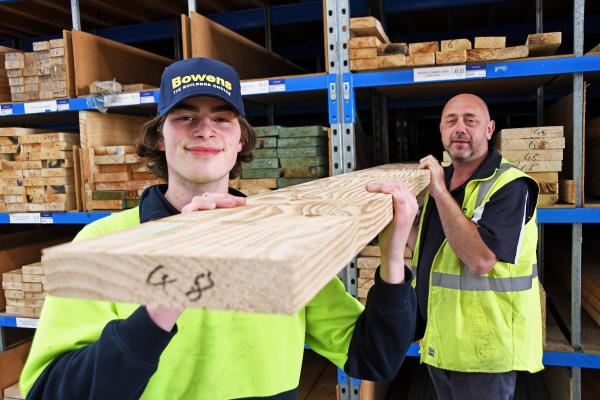 By Mikayla van Loon
Entering the workforce after finishing school is daunting for any student, let alone those who have been completing school at a time of countrywide job insecurity and uncertainty.
Although programs like the one Bowens in Rowville has hosted each year has been put on hold for students at St Joseph's Regional College, store manager Len Tricarico said he can't wait to have VCAL students back in store.
"I actually had probably three to four VCAL students and we put a lot of time into them with the educational stuff and behind the scenes as well with our products and their customer service and just general talking with the public," Mr Tricarico said.
"That's been on hold now for the last nine to 12 months due to our current Covid situation."
For Mr Tricarico, seeing these students learn basic skills in a safe environment where they are encouraged to dream about a future career is why he enjoys the program.
"I enjoy helping young people integrate into work life and it's just a great opportunity for them to actually learn some basic skills in the workforce and everybody needs to start somewhere," he said.
"The students that we're getting from St Joe's and there's a few others around the area, they want to transform into the building industry whether as a carpenter or an electrician.
"So just to get these basics it's a really good platform for them to get an opportunity for future employment working with us."
Two VCAL students from St Joseph's participate in the work experience program one day a week for a six to 12 month period to learn the basics in timber species, customer service and customer orders.
Surveys compiled into a report by the Australian Institute of Health and Welfare (AIHW), showed 34 per cent of young people were concerned about their education in 2020 and seven per cent were concerned about financial difficulties.
The AIHW report, updated in June 2021, states there may be 'adverse effects from temporary disruption to education' and 'potential consequences of unemployment on their long-term employment prospects and finances' due to the Covid-19 pandemic.
Mr Tricarico said although helping students improve their employability prior to Covid-19 was important, it is even more so now to help them gain confidence after two years of disruption.
"For some of these VCAL students they may have never actually had a job before. So I suppose to get that confidence and just some basic skills, through time they start to realise this is actually not that hard or not that bad or not as daunting as what some people might feel when they have a job for the first time."
For the students who were already disengaged from their education, Mr Tricarico said the pandemic might push them to not complete any further studies, so on the job training lends itself to nurturing these teens and their abilities.
"Personally, I love seeing the development in young people. I really enjoy seeing where they start, and how excited they are. They're very motivated and they are begging for leadership.
"I've got two kids and they're around those ages right now. I would love for them to have an opportunity to learn from people who are willing to put the time into them, to give them those basic life values, from the mentoring side, from the experience side, to give them a really good opportunity early in their life to actually make something of it."
To find job opportunities, head to the Bowens website ​​https://www.bowens.com.au/.