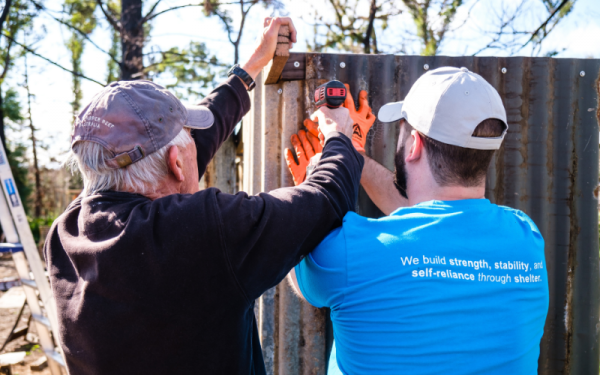 By Parker McKenzie
Are you willing to help rebuild houses damaged by the storms or do you know someone whose property was damaged?
Habitat for Humanity Victoria (HFHV) is seeking both new volunteers and properties to repair and prepare through their Storm Recovery program before bushfire season.
HFHV plans to run volunteer days to help vulnerable home-owners who have been impacted by the recent storms in the outer eastern suburbs of Melbourne.
Housing Programs Manager Tom Alexander said one of the challenge the charity is facing is keeping new jobs coming through the pipeline.
"We have fliers all over the mountains, we connect with council, SES, Help in the Hills and save our Trees, so we have a strong network," he said.
"Almost by default a lot of the people that need the most help are the least likely to see where the help is available.
"If a house is destroyed they might move to another part of Victoria, or if they're elderly and financially ill-equipped they might not have a computer to access our website."
Habitat for Humanity Victoria was established in 1988 and built its first affordable home in 1995. Since then it has partnered with 65 families to help them into home ownership.
Mr Alexander said anyone willing to volunteer with the storm recovery program is welcome, but to be prepared for hard work upon arrival.
"Our volunteers come in all shapes and sizes, I mean I've been twisting the arm of my mom," he said.
"We have 75 year old women and 18 year old students; it's open to anyone who can do a bit of physical work."
The comprehensive recovery program assists homeowners in making minor repairs of storm damage and the removal of tree debris. The recipients of the assistance are unable to complete tasks themselves due to factors beyond their control.
For those who are unable to do physical work, Mr Alexander said there are other ways to volunteer.
"Through our better impact portal you'll see the days available to volunteer and that's not just the storm recovery program," he said.
"It's our Brush with Kindness program, where we do maintenance work for women's shelters and domestic abuse victims and also our build program where volunteers come onto a site and help build a house.
"It's a really good mix of programs if people have any geographical or ability constraints."
Interested volunteers can contact Volunteer Coordinator Felicity Smith at fsmith@habitat.org.au for more details or visit www.habitatvic.org.au/volunteer.