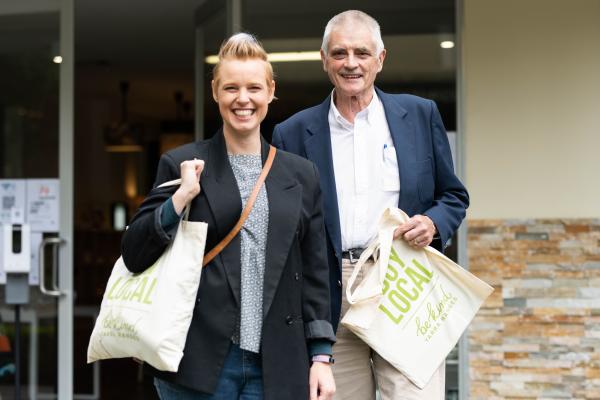 Yarra Ranges Council's Economic Development Team has been visiting townships across the region to support local businesses with reopening and the move into a vaccinated economy.
They were joined by newly elected Yarra Ranges Mayor Cr Jim Child and Deputy Mayor Johanna Skelton to visit businesses in Olinda and hear first-hand some of the difficulties faced by local traders.
"Our local businesses have undergone a lot of challenges over the last two years, with lockdowns as well as storms," Cr Child said.
"It's terrific to see doors open and visitors coming back to the region.
"It's important for businesses to be well-prepared for an increase in visitors over the coming summer months, and Council is committed to supporting our businesses as much as we can to stay open and stay safe."
Some of the services provided during the visits included updated health and safety collateral, printing and laminating services for Covid-Safe signage, distribution of buy local bags, and collecting feedback, ideas and suggestions on outdoor activation plans.
Most importantly the team met business owners to gather feedback on the challenges they have faced during successive lockdowns, which will help shape Council's advocacy and support initiatives in the coming year.
A key aspect of a Covid-safe reopening is using outdoor spaces for trading and recreation. Council is waiving Footpath Trading Application & Renewal fees to support the safe reopening of local businesses in the Yarra Ranges.
"Council knows the difficulties faced by businesses during lockdown, and is happy to be able to waive footpath trading fees in recognition of this." Cr Child said.
Outdoor activation plans are also underway with township tidy-ups to commence from now until Christmas, thanks to additional funding from the State Government.
The council infrastructure team will be deep cleaning footpaths and council infrastructure, weeding and mulching and getting townships ready for the busy summer season.
As the State exceeds a 90 per cent double dose vaccination rate, the region will move into the next stage of the re-opening plan, and a change in requirements for the business community.
In particular, non-essential retail settings have joined the vaccinated economy. These businesses can only open with workers and patrons who are fully vaccinated or have a valid medical exemption.
Children aged under 12 years and two months do not need to be vaccinated. Face masks are still required for indoor retail workers and customers unless a valid exemption applies.