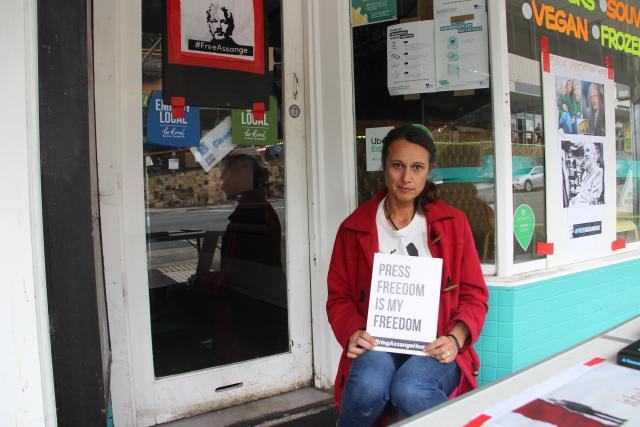 By Parker McKenzie
A screening of a documentary about Julian Assange's father's campaign to free his son will air in Belgrave on 17 April, followed by a question and answer session.
77-year-old John Shipton will attend the 2pm screening at Cameo Cinemas and answer questions from attendees afterward.
ITHAKA was filmed over two years throughout Europe and the United States as Mr Assange fights a court battle in Britain to prevent his extradition to the United States.
Raine Sinclair helps with logistics for the film screenings and raises awareness about Mr Assange's battle by visiting places like Belgrave and Upwey and gathering signatures to petition the local Federal Member.
"That smear campaign against him really did a good job to turn people against him," she said.
"People didn't want to be associated with him with WikiLeaks, or with anyone like me, that was still trying to fight for his freedom."
Mr Assange came to international attention when Wikileaks, which he founded, published a series of leaks of provided by a United States intelligence analyst Chelsea Manning in 2010. The documents revealed the United States Military had killed civilians in unreported incidents throughout the Afghanistan War.
Sweden issued an international arrest warrant for Mr Assange over allegations of sexual misconduct in November 2010 and after losing his extradition appeal, Mr Assange took refuge and was granted asylum in the Embassy of Ecuador in London where he remained until 2019.
Despite no longer facing extradition to Sweden, Mr Assange was charged by the United States under an espionage act after his asylum was revoked and is currently fighting his extradition to the United States in the British courts.
Ms Sinclair said the Australian government as a whole has offered very little support to Mr Assange despite being an Australian citizen.
"It seems like other countries are supporting him more than the Australian Government," she said.
"There is this parliamentary friends group that called the Bring Julian Assange Home Parliamentary Group."
28 federal members have joined the Bring Julian Assange Home Parliamentary Group, including Liberal-National, Labor, Greens and independent members.
Directed by Ben Lawrence, the film is currently being toured around Australia to raise awareness and support for Mr Assange.
Ms Sinclair said people have been moved at previous screenings, which have seen cinemas sold out.
"I recommend taking tissues along because you get to see the cold, hard facts behind the scenes," she said.
"This family is not really that much different from your regular family out here, except Julian exposed war crimes."
Mr Assange was recently refused an appeal against extradition to the United States by the Supreme Court of Britain, as he awaits a decision in court.
He briefly lived in the Dandenong Ranges in his youth and attended school in Upwey.
Cameo Cinema is located at 1628 Burwood Highway, Belgrave. More information regarding the screening of ITHAKA can be found on the Special Q&A screening of ITHAKA with father of Julian Assange, Mr John Shipton Facebook Page.