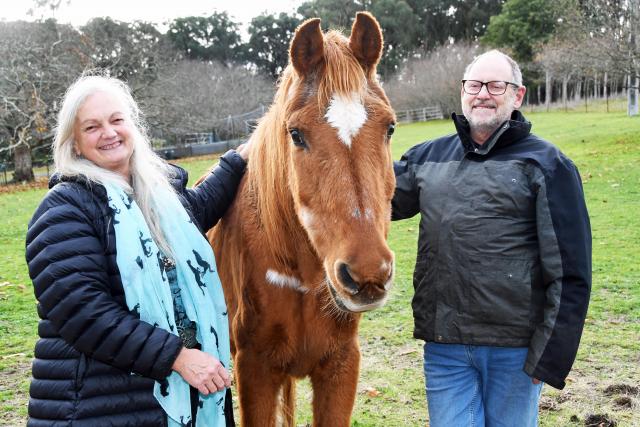 By Tyler Wright
A beloved horse owned by a Monbulk family was rescued from a near-fatal incident on Sunday 12 June after losing footing and falling into a ditch.
38-year-old Kamir has lived on David and Cheryl Cruttenden's property on Old Emerald Road for 17 years after being taken on by the family as a rescue and suffering prior abuse.
When David saw his Gelding's hooves flailing on the Sunday afternoon, his first thought was to call triple-0.
"His front knee and fetlock were folded under and jammed in the drain," David said.
"After that call, I had Simon from Monbulk CFA at my gate within five minutes; and then Eric and his team arrived about 10 minutes later… they were very quick, very well organized, professional and had empathy towards the old boy (because he's very old)," David said.
Monbulk and Macclesfield CFA brigades were notified of the incident at 3:46pm, with four CFA vehicles attending and the Macclesfield crew fortunately having specialist equipment to rescue the elderly Gelding.
"We have large rescue glides which are like giant stretchers for large animals, we have a lifting harness and bits of equipment that enable us to get straps underneath the animal when it's lying down so we can drag them into better locations," Macclesfield Fire Brigade Captain Sharon Merritt said.
"It's sometimes challenging because [large animals] never seem to be stuck in the same way, so there doesn't seem to be any standard way to pull them out of the predicament they're in… it always requires a few of us putting our heads together and come up with different ideas of how to do the work," Sharon said.
With the help of local Elite Equine Veterinarians, Kamir was given pain relief and treated for deep cuts on his front knees.
"Despite the cold and rain it was an absolute pleasure to work alongside such a professional, caring outfit. A stellar group of volunteers who gave up their Sunday evening to prioritise Kamir's welfare," Elite Equine staff member Dr Sue Jones said.
It is not the first time the so-called 'belligerent' old boy has gotten himself in trouble, needing to be rescued by CFA crew about six years ago after another fall.
Now known as a 'repeat offender' by brigade crews, owner David is just grateful for the community support.
"That's one of the great things about living in this area…you've got people with that level of expertise, enthusiasm and empathy that are willing to drop everything on a Sunday and come out and help you out; otherwise he would have died for sure," he said.