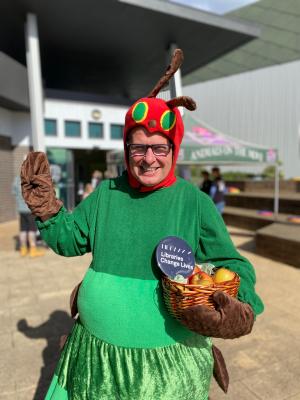 By Mikayla Van Loon
Emerald locals were able to enjoy a day of fun, games, craft and community on Wednesday 14 April when the Hills Hub and Emerald Library hosted a Play and Discovery day.
Hundreds of people went to the event to experience things like face painting, bubble blowing, toy library play sessions and a second-hand toy stall.
A scavenger hunt, live music and fellas from the Emerald Men's Shed helped keep things entertaining for both young and old, as they were welcomed back to the library and hub for the first time in a long while.
A fan favourite was, however, the animal encounters.
Animals and bugs alike were out in full force, particularly one very hungry caterpillar that looked surprisingly like Casey Cardinia Libraries' CEO Chris Buckingham.
"It is so good to see people visiting our libraries and having fun," Mr Buckingham said.
"Emerald is such a strong community and they came out in numbers to reconnect with the library and the Hills Hub."
The day was an invitation to learn more about what services both the library and Hills Hub have to offer.
Cardinia Deputy Mayor Jeff Springfield said the play and discovery day was also a great way for the Emerald community to see the new Hills Hub facilities.
"The Hills Hub is a fantastic, accessible and integrated facility that supports volunteer, community and local business groups. It also provides a great location for community, arts and social events," Mr Springfield said.
The Hills Hub is home to the Emerald Men's Shed, Hills She Shed, the Puffing Billy Toy Library and U3A Emerald. Emerald Library is joined by a pathway and reading garden.