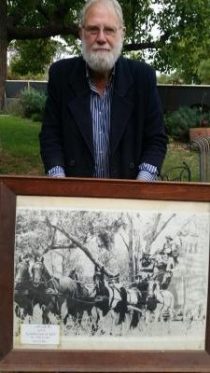 By Taylah Eastwell
The year was 1973.
Gough Whitlam led the country, the world felt the heat of an oil crisis, Elvis Presley broadcast 'Aloha from Hawaii' via satellite to billions of viewers and in little old Olinda, Hans Albers was running a highly regarded livery stable that housed some of the country's most immaculate coaches.
Mr Albers' coaches were highly sought after, having featured in many films and advertisements throughout the era, including an ad for McEwans Hardware, now known as Bunnings Warehouse.
His fleet drove in various parades, attended events at the Royal Children's Hospital, and one particular Landau carriage featured in the 1976 Melbourne-filmed series Power Without Glory. Mr Albers also recalls driving an old Cobb and Co coach from Melbourne to Ballarat for the opening of Sovereign Hill in the 1970's.
But one memory of his carriage driving days that remains close to his heart is the time he drove the late Prince Philip from Lilydale to Coldstream for a polo event.
"The government got in contact and asked if I would be prepared to drive Prince Philip, I said of course," Mr Albers said.
"I don't know how they got a hold of me but I used to do a lot of film work using the carriages so I was very well known in the carriage world. When they asked if I would drive Prince Philip I nearly fell backwards," he said.
Mr Albers went to Lilydale in his Cobb & Co coach, led by six horses, and watched as Prince Philip climbed on board.
"We drove from there to Coldstream. While I was driving the coach we talked a great deal about carriages and horses, because he was also a carriage driver," Mr Albers said.
Also in the coach that day was an "old friend" of Mr Albers, the late Henry Dixon.
"I noticed sitting on the coach that he (Prince Philip) was so pleased to have a few moments to talk to things he wanted to talk about. You could see he was really pleased being left alone to talk about the things he wanted to, that's the experience I had with him," Mr Albers said.
Mr Albers later went to England, and while he didn't make arrangements to meet his new companion at the palace, he did go to check out the carriages.
"He was a marvelous chap and a gentleman there is no doubt about it. It was a marvelous experience, he was a very nice gentleman to meet. The news of his passing was very sad," Mr Albers said.