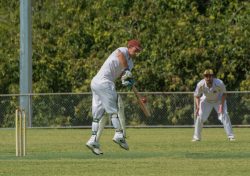 By Peter Douglas
Reigning Jack Feaver Medal winner, Cameron Wheeler, heads a list of three cricketers from the Ferntree Gully District Cricket Association to win representative honours for their 2016/17 season.
The Upwey-Tecoma paceman, 21, joins fellow league talents Cody Morris and wicketkeeper Clint Buckland to be named in the Victorian Country Cricket League Region 8 (South East Country) Team of the Year.
The players were selected from the premier division within their association.
From these nominations, selectors choose a Victorian Country Team of the Year from across the state.
Wheeler enjoyed a stunning year, with the young tyro claiming 42 wickets at 11, while also chipping in with 148 runs at an average of a tick over 14 runs.
The nomination has capped off a brilliant season, during which he was the winner of the bowling average for the Reeves Shield and won the league medal by a record 10 votes, after polling in 10 out of 12 matches.
Meanwhile, neighbouring Yarra Valley Cricket Association was also heavily represented in the team, with league stand-outs Simon Young, David Lever and Kane Jones also making the cut.
Lever, in particular, enjoyed an outstanding year, celebrating a premiership with Warburton-Millgrove, in addition to taking out the THR Drummond Medal, the highest individual honour in the association.
He amassed 454 runs and 49 wickets throughout the season.
Kane Jones was also included in the Yarra Valley's 'Team of the Year', with the brilliant Mount Evelyn batsman widely acknowledged as one of the league's finest.
In the representative squad, captain-coach of the premiership-winning Kooweerup, Mark Cooper, was named as skipper.
VCCL Region 8 Team of the Year 2016/17:
Mark Cooper (captain) WGCA; Cody Morris FTGDCA; Daniel Warwick MPCA: Chris Brittain (vice captain) MPCA; Kane Jones YVCA; Clint Buckland (wicketkeeper) FTGDCA; David Lever YVCA; Justin Grant MPCA; Simon Young YVCA; Tom Tyrrell WGCA; Cameron Wheeler FTGDCA; Dwayne Doig WGCA.