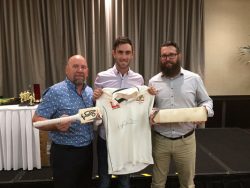 By Peter Douglas and Martin Smith (cricket.com.au)
South Belgrave Cricket Club now has the perfect memorabilia item for its soon-to-be-completed clubrooms, thanks to a special gift from a home-club hero.
Australian Test cricketer Glenn Maxwell made a surprise appearance at the club's recent presentation night, during a short break from his international playing commitments.
The reason for his unexpected visit?
To personally donate the broken bat that serves as a lasting memento from his maiden Test century, which he scored in India earlier this year.
Maxwell said it was a humbling experience to receive so much support from the club where he learnt his trade as a junior cricketer.
He said club members continue to follow his career keenly and celebrated when he finally reached three figures in a Test arena.
"To chat to those guys and see how proud they were, they've seen me since I was an eight-year-old at the club. To see the joy in their faces and hear it in their voices was probably when it all hit a little bit when I realised how special it all was," he said.
"They've given me unbelievable support ever since I was a junior.
"So that was a good time for it to sink in and share a moment with a lot of the people who've known me for the longest and know what I'm like on and off the field."
Maxwell's century on day two in Ranchi was particularly sweet, given he was no certainty to return to Test cricket.
During the course of his innings, his bat spectacularly broke in two after fending off a quick delivery.
Maxwell played both cricket and football at South Belgrave as a junior, before his cricketing career took off.
But his family remains intrinsically involved with the club, as they have been for decades.
Club secretary and incoming president, Trevor Miller, said Maxwell was a major part of the club's history.
"Because we've known him for so long, the cricket club is like his family," says club secretary and incoming president, Trevor Miller, who jokes he's known Maxwell since he was "a 10-year-old kid running around, annoying us at the start of training".
"When he goes into bat, our whole club is on the edge of their seats," he said.
"There are certain people who aren't allowed to watch because whenever they turn the TV on and he's batting, he gets out. So they can only get messages about it.
"The second day of that Test … I don't think there were many people from the club who didn't see that. We were all on the edge of our seats, willing him on."
Mr Miller said there were very few people who knew Maxwell would attend the event, after the all-rounder flew in just the day before.
"It was really good for the club. We are really proud of him," he said.