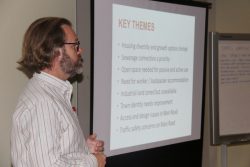 By Peter Douglas
Sewerage infrastructure improvements may hold the key to unlocking Monbulk's development potential over the next 20 years.
As part of its public consultation process, urban design consultants Planisphere delivered their draft Monbulk Structure Plan to residents at the Monbulk Living and Learning Centre on Wednesday 19 April.
The plan identifies opportunities and issues within the township, and seeks to create a framework to guide future development through the co-ordination of land-use, and urban design and development.
Yarra Ranges Council has commissioned Planisphere to assist with its preparation and plan for delivery.
In addressing a packed audience of around 100 people, speaker James Larmour-Reid from Planisphere said they had received extensive community feedback.
He said high among the community's priorities were more accommodation for seasonal workers, as well as the development of an aged-care facility.
Mr Larmour-Reid said it was clear the community desired greater housing diversity, but that this would require greater sewerage connection.
"A concern was raised about young people not being able to afford to live in Monbulk," he said.
"They don't have the options for rental or smaller homes.
"We're looking not just at more housing, but more diverse housing in terms of what is offered.
"Because of the large lot sizes, what we've got is a lot of large, multi-bedroom houses that are great for families, not so great if you're getting older or if you're a young person.
"Part of the reason for that is this issue with sewerage."
Also, among the community's wants are for more passive and active recreation options.
"There has been feedback about open spaces, desire for some more green spaces in the centre of town … but also some overflow spaces for the footy team and cricket team, and these types of activities," he said.
"So, both passive and active recreation needs."
Mr Larmour-Reid said the now vacant, former Monbulk Rangers soccer ground represented a unique opportunity.
Some suggestions have included the development of an aged-care facility at the site.
Four concept designs for Moores Road were presented to the audience, which are now available for public viewing.
Community feedback is open until 5 May, with the structure plan set to be completed in June this year.
Meanwhile, among the concerns raised by attendees was the ability for Yarra Valley Water to work in harmony with any planned developments.
Other comments included the planning didn't go far enough, the protection of native vegetation, and ways to acknowledge the town's horticultural history.
Another questioned if opening up land for subdivision would be of any benefit to locals, with the potential for investors to outbid local home-buyers.
Another asked if the present roads could cater for increased population.
To have your say on the draft structure plan, fill out the feedback form, which is available at yarraranges.vic.gov.au.
For more information, visit Monbulk Community Link, phone Kris Hansen in Strategic Planning on (03) 9294 6195 or email mail@yarraranges.vic.gov.au.